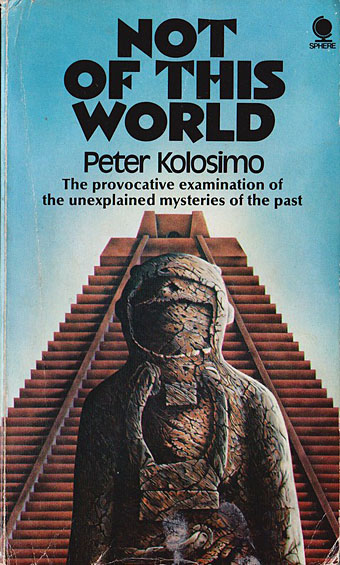 Cover art by Tony Roberts, 1974. A book I received as a present for Christmas, 1974. Also the first place I encountered the words "Popol Vuh", before discovering the music of Florian Fricke and co. a few years later.
Yes, "crank" is a pejorative word but it's used with some degree of affection, as in "harmless crank". It's also a convenient umbrella term for the books referred to in the weekend post which embrace diverse subjects, from lost continents and "Earth energy" to ancient astronauts and flying saucers.
The prime crank decade was the 1970s, a period when publishers were falling over themselves to cash-in on the massive popularity of Erich von Däniken's dubious investigations, while also catering to the by-products of the hippy era and the occult revival. Books by Charles Fort, Immanuel Velikovsky and James Churchward (the Mu series) all received reprints, with some appearing in paperback for the first time. The British editions of these books were published by imprints like Corgi, Panther and Sphere who were also publishing large quantities of science fiction, a situation that led to many crank titles being packaged as though they were fiction or fantasy. Sphere was in the vanguard, presenting a wide range of books with the same cover designs, cover artists and Novel Gothic typeface as their SF titles. A cynical move, no doubt, but it also makes the crank books seem more like fiction than their authors might have intended.
This post presents a selection of crank titles with cover art by SF artists but there are many more examples out there. (Watch the skies!) I've limited the selection to British publishers but the same syndrome was evident in American publishing, as documented at Absolute Elsewhere. And I've included a couple of books by sceptics John Sladek and Dr. Christopher Evans. These were intended to dismantle the claims of L. Ron Hubbard, Erich von Däniken and co. but were still packaged in paperback to resemble the books they were attacking. The major demolition of Von Däniken is Ronald Story's The Space Gods Revealed but covers for that one have always been relatively restrained.
Missing from this list are three paintings by SF artist Peter Jones for books by Dr. Celia Green. The art may be seen in Jones's Solar Wind collection but I couldn't find any of the printed covers, which suggests they had a limited run if they were printed at all. These are odd for being typical fantasy imagery attached to serious studies of lucid dreaming and out-of-body experiences. Dr. Green is a philosopher and science researcher (she coined the term "out-of-body experience") so she doesn't belong on a crank list in any case. Also absent is the most popular British cover illustrator of the decade, Chris Foss, who would have been too busy working through his fiction commissions and creating designs for feature films.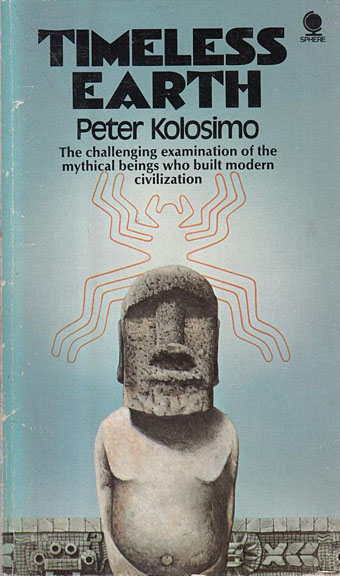 Cover art by Tony Roberts (?), 1974.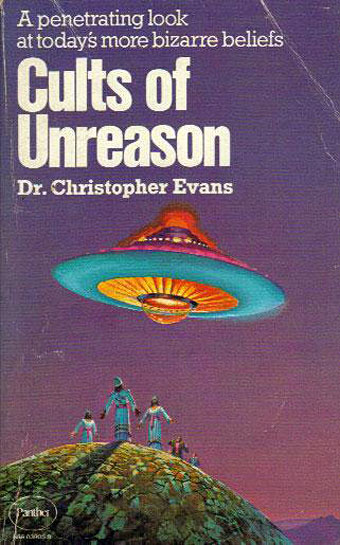 Cover art by Bruce Pennington, 1974.
Evans was a computer scientist, an occasional contributor to New Worlds magazine, and also the model for the deranged Vaughan in JG Ballard's Crash. Cults of Unreason investigates crank sects such as the flying-saucer worshippers of the Aetherius Society (hence the cover art), and the Scientologists who caused a stir in Britain in the 1960s when L. Ron Hubbard set up an outpost at East Grinstead.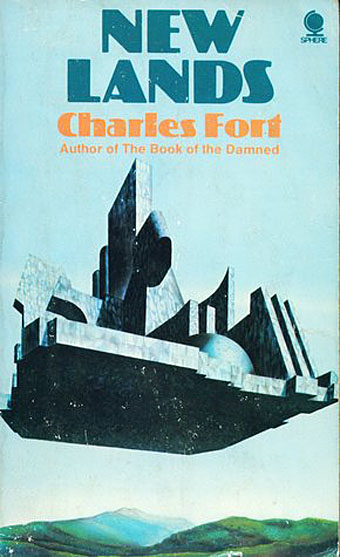 Cover art by Colin Hay, 1974.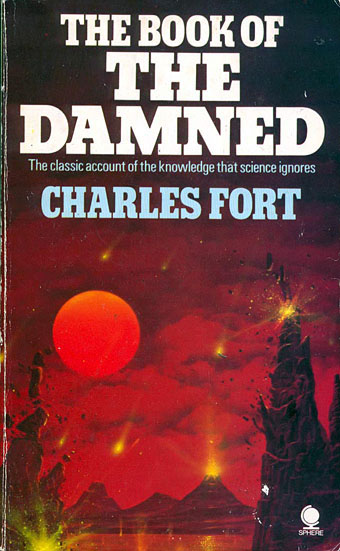 Cover art by Angus McKie, 1979.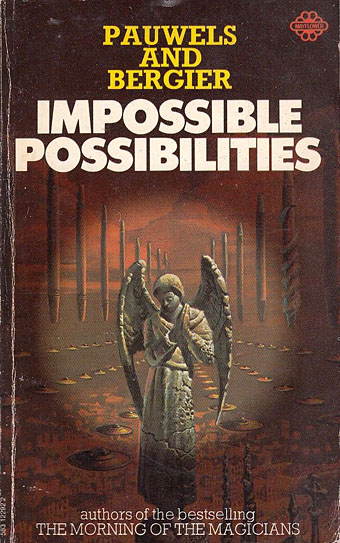 Cover art by Bruce Pennington, 1974.
The disappointing follow-up to The Morning of the Magicians. For some reason the publisher added that vignette effect to the painting, the original of which may be seen in Pennington's Ultraterranium book. Pennington produced a crank book of his own in 1976, Eschatus, a collection of paintings based on the prognostications of Nostradamus. Many of those paintings resemble this cover.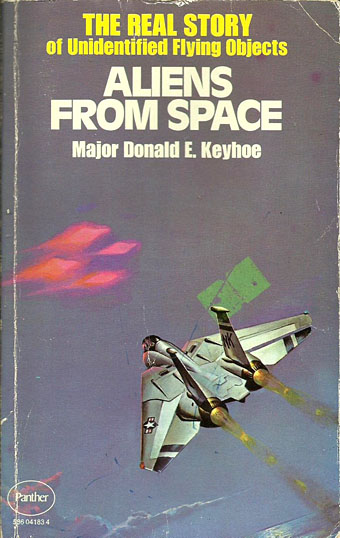 Cover art by Bruce Pennington, 1975.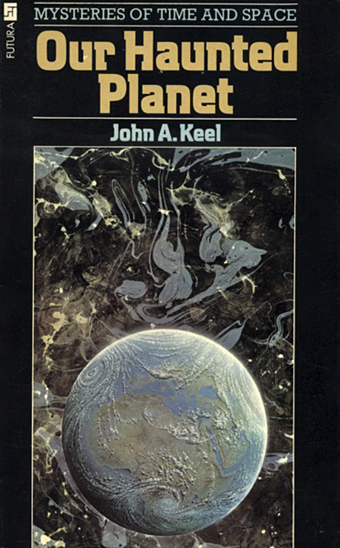 Cover art by Patrick Woodroffe, 1975.
Patrick Woodroffe's only crank cover, and a book in which Keel attempts to write a Unified Field Theory of Crankdom…or something. He doesn't succeed but he does give us the neologism "ultraterrestrials".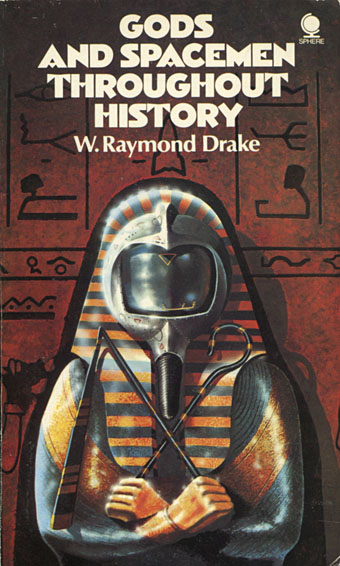 Cover art by Tony Roberts (?), 1977.
One of a series of ancient astronaut books by this author.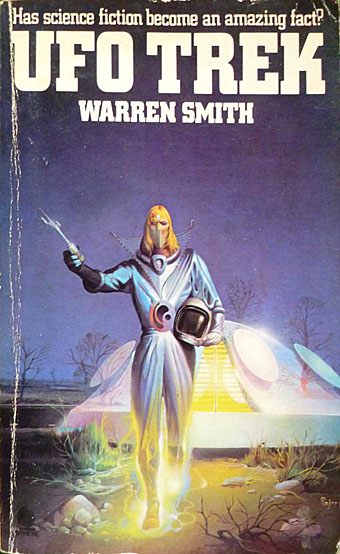 Cover art by Peter Jones, 1977.
For this one Jones seems to have combined elements of spacecraft and spacesuits from The Day the Earth Stood Still and Gerry Anderson's UFO.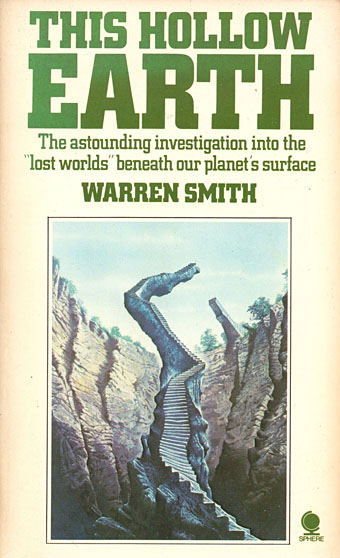 Cover art by Tony Roberts, 1977.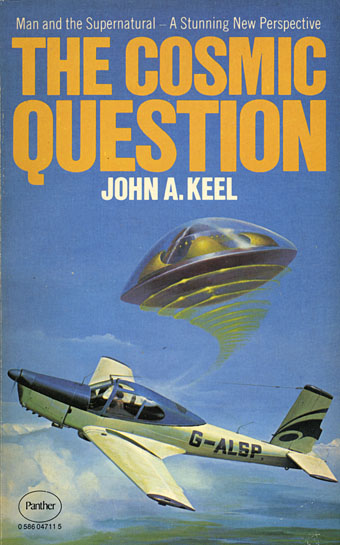 Cover art by Peter Jones, 1978.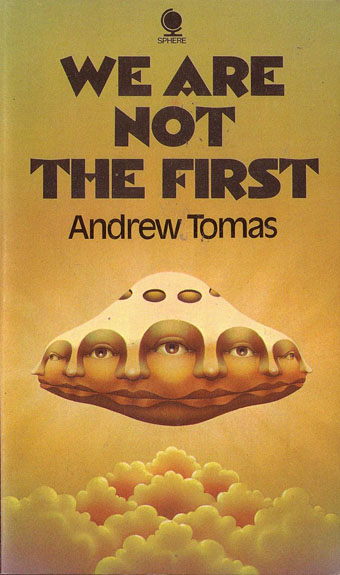 Cover artist unknown, 1973.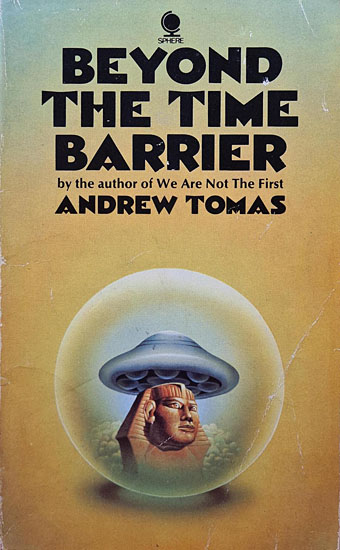 Cover artist unknown, 1974.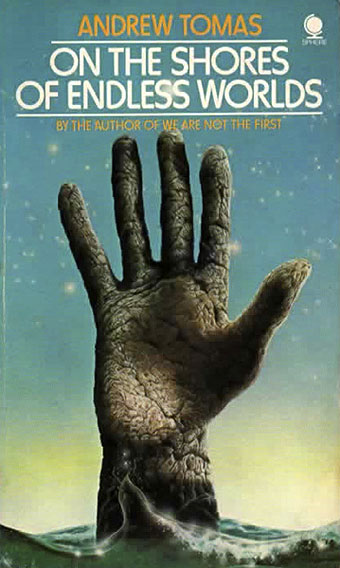 Cover art by Tony Roberts, 1975.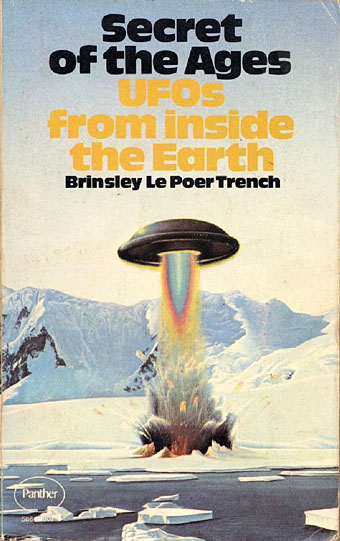 Cover artist unknown (Chris Foss?), 1974.
William Francis Brinsley Le Poer Trench, 8th Earl of Clancarty, 7th Marquess of Heusden was a flying saucer-obsessed Irish peer who wrote many books on the subject, and famously tabled a debate about UFOs in the House of Lords. Secret of the Ages is the one in which he grafted his saucer mania to Hollow Earth theory, although I don't think he ever suggests that the craft are blasting their way through the polar ice as shown here.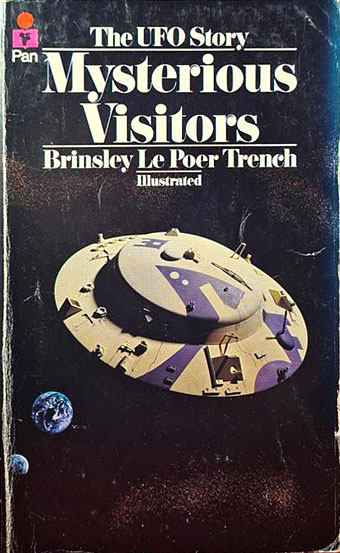 Cover artist unknown, 1973.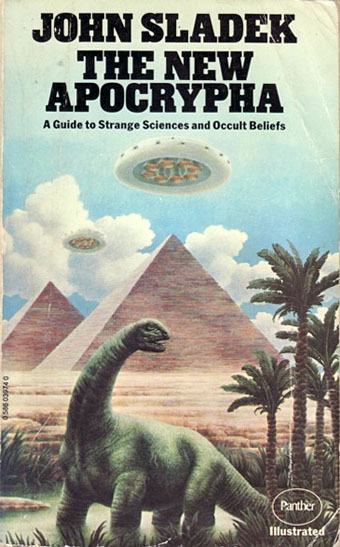 Cover art by Justin Todd, 1978.
Sladek takes on pseudo-science, pseudo-archaeology and pseudo-everythingelse. He was a great comic writer, and his sense of humour is to the fore throughout this entertaining book which is infinitely preferable to the scepticism of scowling bores like James Randi. Justin Todd's cover inadvertently echoes the flying-saucer-with-pyramid climax of Kenneth Anger's Lucifer Rising.
Elsewhere on { feuilleton }
• The book covers archive
• The illustrators archive
Previously on { feuilleton }
• Science Fiction Monthly
• The fantastic and apocalyptic art of Bruce Pennington