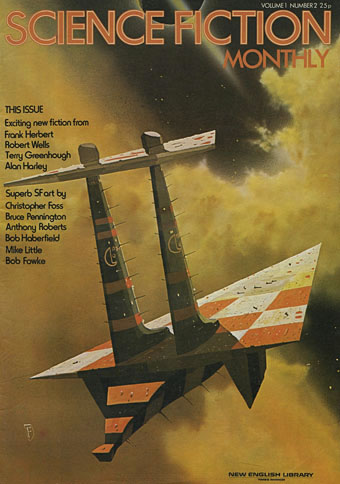 Art by Chris Foss.
Recent uploads at the Internet Archive include an incomplete run of British magazine Science Fiction Monthly, a large-format collection of SF art and original fiction that ran for 28 issues from 1974 to 1976. Science Fiction Monthly was significant for my generation since it was the only regular British SF magazine available in the mid-70s. (Michael Moorcock and co. were still producing issues of New Worlds but the only ones I saw were the quarterly paperbacks). Science Fiction Monthly was published by New English Library which made it seem at first glance like a promotional tool for the publisher, even more so when most of the cover art and almost all the ads were for NEL titles. The early issues lean heavily on NEL content but later issues had a broader reach and contained all the features you'd expect from an SF magazine of the period: news columns, film reviews, interviews, a bad comic strip, and so on. The thing I liked most at the time was the reproduction of book cover art at a large size, with full-colour paintings filling the broadsheet pages or spreads, all printed with the intention of being removed and fixed to bedroom walls. The early issues were also unique in giving regular attention to the artists, running interviews and even showing photographs of the people responsible for all of that familiar paperback art. I didn't see all of the early issues but the interviews were later collected in book form by NEL in Visions of the Future (Janet Sacks ed., 1976), a volume that made a considerable impression since it showed me that SF and fantasy illustration was a viable career rather than the product of remote and mysterious talents.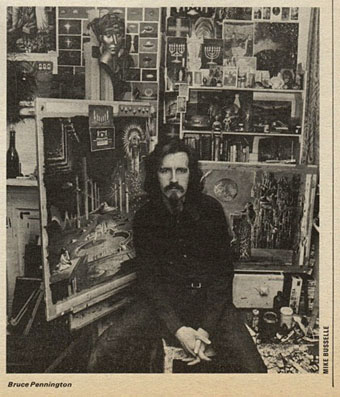 Artist Bruce Pennington (see this post).
A few page samples follow. It's a shame the collection at the Internet Archive is incomplete since the magazine's contents were interesting to the end. The only copy I own today is the one for October 1975 (not currently available online) which is almost a JG Ballard special, with a feature on the writer, an interview about his new novel, High-Rise, and an original piece of fiction.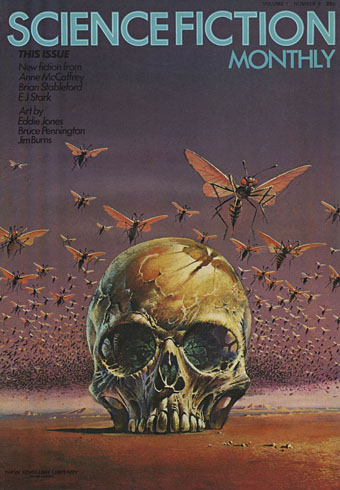 Art by Bruce Pennington.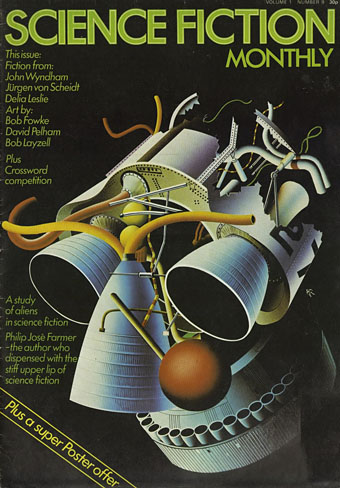 Art by David Pelham.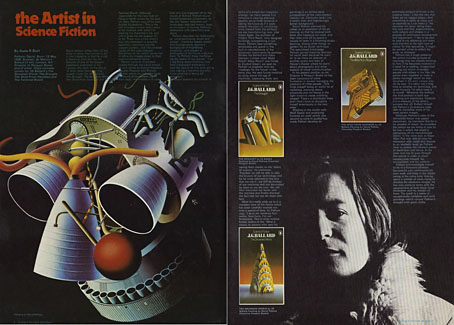 David Pelham profiled.
Roger Dean profiled.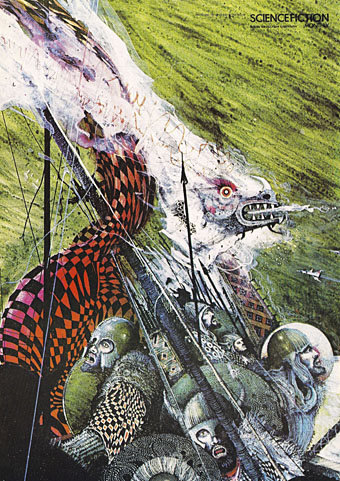 Art by Ian Miller.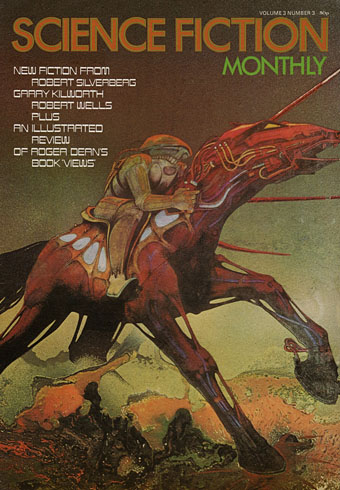 Art by Roger Dean.
Previously on { feuilleton }
• Roger Dean book covers
• The fantastic and apocalyptic art of Bruce Pennington
• Roger Dean: artist and designer
• Penguin science fiction
• The art of Ian Miller