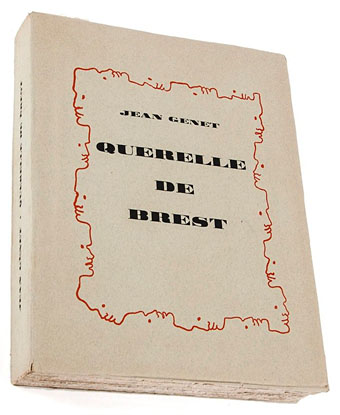 Querelle de Brest (1947) by Jean Genet. Cover design by Jean Cocteau.
This weekend's viewing was Fassbinder's Querelle (1982) which is marvellous in its new Blu-ray transfer, and a great improvement on the muddy picture of the earlier DVD release. The film is still only the briefest sketch of Genet's novel (although Genet biographer Edmund White enjoyed it) but I like the overheated atmosphere, the phallic set designs, Franco Nero (hey, it's Django Gay!), and the film as a whole is a fitting memorial to Brad Davis, everyone's favourite sweating matelot. So in honour of all that, here's a small collection of Querellerie past and present.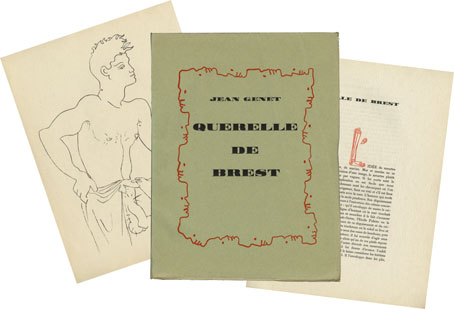 Querelle de Brest was published in a limited edition of 525 copies illustrated throughout by Jean Cocteau who didn't avoid the pornographic details. Even though copies were seized by the authorities, and the author fined, Cocteau's involvement did little to harm his public reputation, something that's impossible to imagine happening elsewhere. A few of the illustrations follow below, many more of the series can be found scattered across various websites.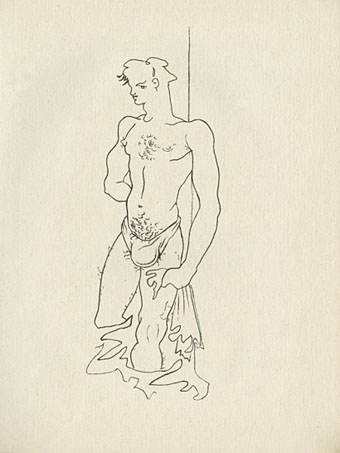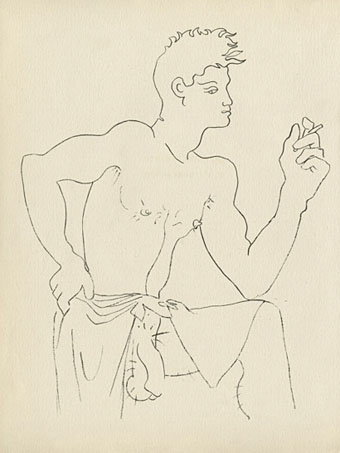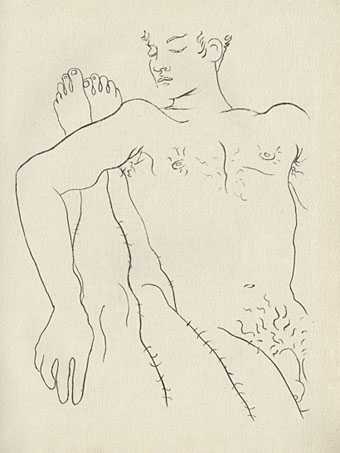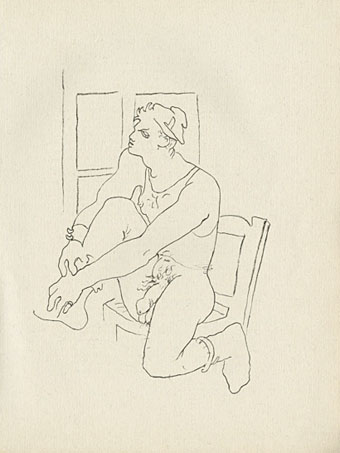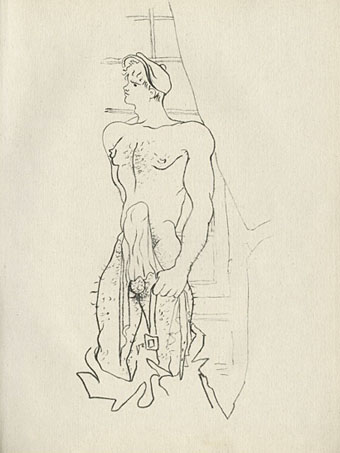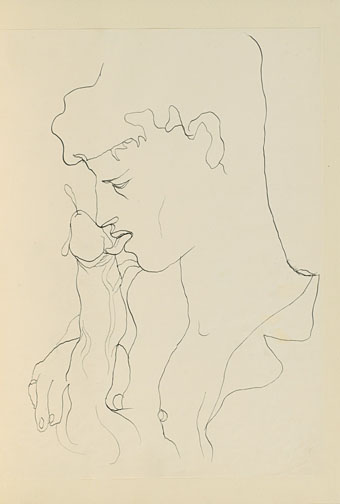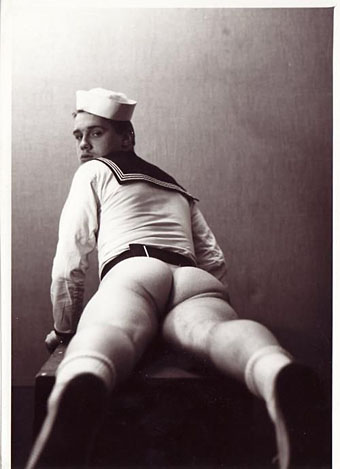 Querelle was waiting, his head bowed and the blood mounting to his face. Nono looked at the sailor's arse; the parts were small and hard, round and smooth, covered with almost a fleece of light brown hairs which continued on round to his thighs and—but there more sparsely spread—up to the small of the back, where his striped vest was just peeping out from the rucked-up jersey.

(Translation by Gregory Streatham, 1966)
Some gratuitous buttocks which turned up while searching Pinterest.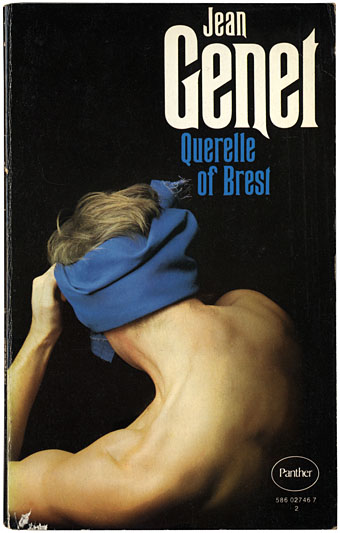 Panther Books edition, 1973. Photo by Roger Phillips.
Shore Leave (1952) by George Quaintance.
The saturated colours of Fassbinder's film were apparently derived from the beefcake paintings of American artist George Quaintance (1902–1957)…or so everyone says. I've not seen any definite confirmation of this but looking at Quaintance's work it's easy to believe.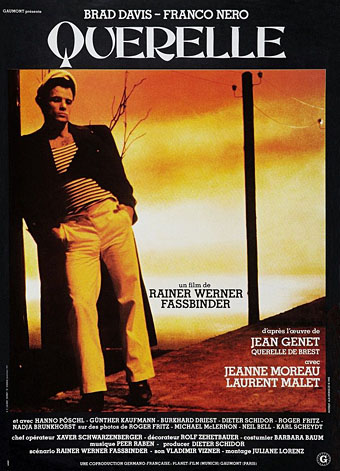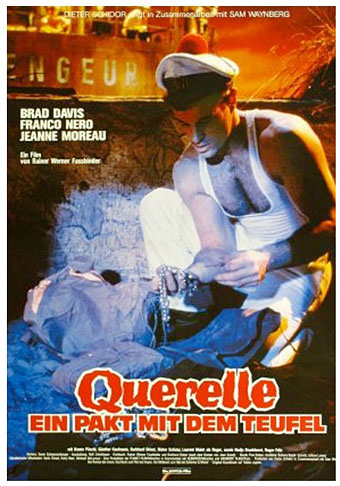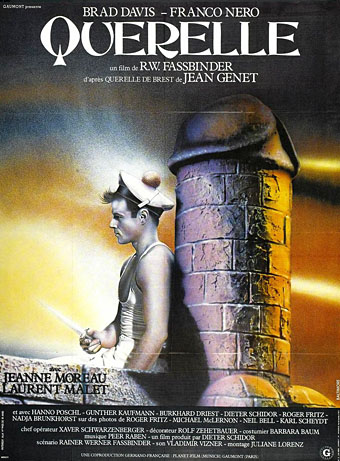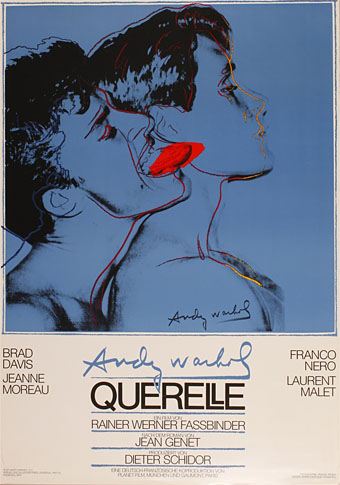 Andy Warhol visited the set while the film was in progress, subsequently creating this poster whose artwork was printed in a variety of colours. Warhol's name is so prominent it makes it seem like it was his own production.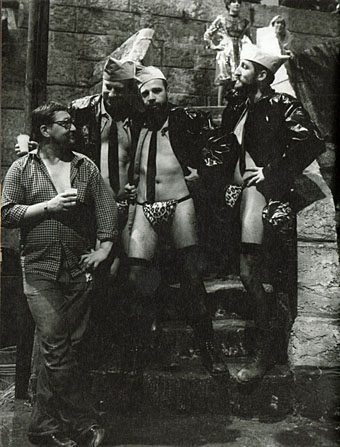 Fassbinder posing with some extras who are starting to think that this film might be a bit gay.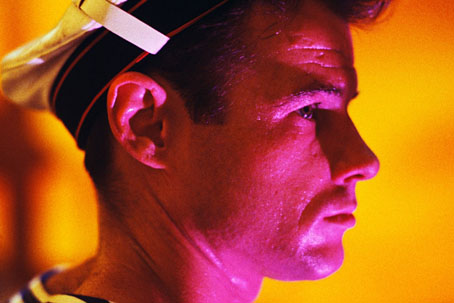 Roger Fritz has a small role in the film, and also took most of the still shots used in its promotion. See more of his photos here.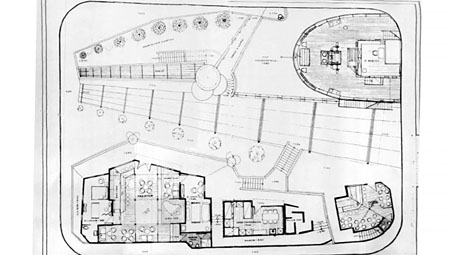 The Blu-ray disc includes a half-hour featurette about the film's production which includes some plans of Rolf Zehetbauer's elaborate set design.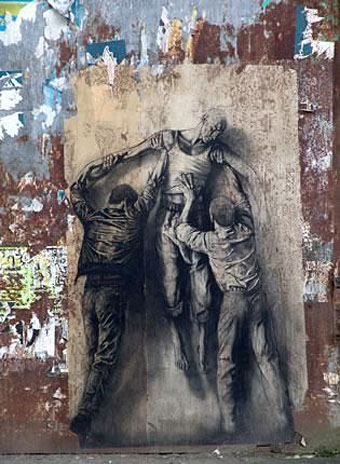 Parcours Jean Genet (2006) by Ernest Pignon Ernest.
A piece of public art by French artist Ernest Pignon Ernest which was placed on various walls around the town of Brest.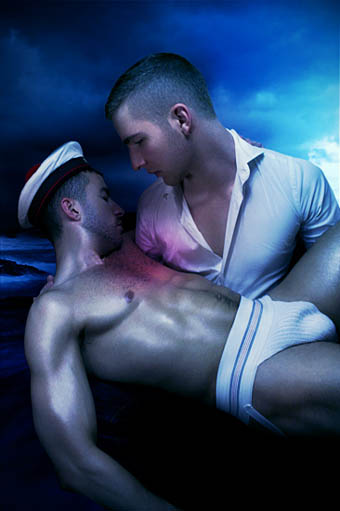 Situla (2007) by Exterface.
Genet's novel probably exerts more of an influence today than any of his other works, at least superficially. Situla is a photo-series by French photographers Exterface that pays homage to Genet via Fassbinder.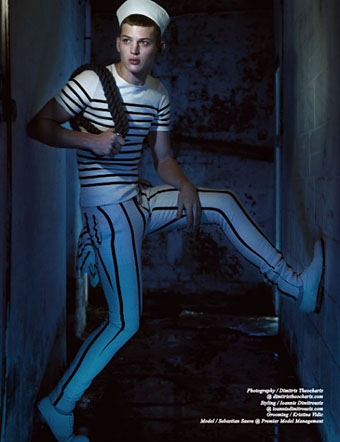 And here's another homage from 2011 by photographer Dimitris Theocharis. The clothes are by Jean Paul Gaultier (quelle surprise), and the model is Sebastian Sauve.
Elsewhere on { feuilleton }
• The gay artists archive
Previously on { feuilleton }
• Jean Genet, 1981
• Un Chant d'Amour (nouveau)
• Jean Genet… 'The Courtesy of Objects'
• Querelle again
• Saint Genet
• Emil Cadoo
• Exterface
• Penguin Labyrinths and the Thief's Journal
• Un Chant D'Amour by Jean Genet