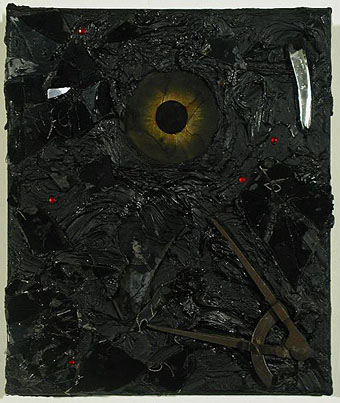 Untitled from The Black Series by Derek Jarman.
The Serpentine Gallery hosts an exhibition of Derek Jarman's work selected by filmmaker Isaac Julian from 23 February to 13 April, 2008.
The Derek Jarman exhibition will present a selection of work by the leading British filmmaker of his generation. Curated by the celebrated artist and filmmaker Isaac Julien, it will highlight Jarman's work in film and painting, including his pioneering presentation of the moving image within the gallery context. Jarman was arguably the single most crucial figure of British independent cinema in the 1970s, 80s and 90s. He struggled for Gay Liberation and with the impact of AIDS and lived as a participant observer, recording all that passed before him, from punk to Thatcher, Hampstead Heath to film premiere.

This exhibition is a timely reappraisal of Jarman's work, conceived as an immersive environment by Julien, featuring rarely seen films from the Derek Jarman Super-8 archive, an installation of his film Blue, 1993, as well as a selection of his paintings. Julien has also created a series of photographic lightboxes documenting Jarman's cottage and garden in Dungeness.

The exhibition will mark the premiere of Julien's new film about Jarman, Derek, the centre of which is a day-long interview Jarman recorded in 1990. The film includes a narration by Tilda Swinton and clips of Jarman's films, juxtaposed with news and footage of the current affairs from the times that this life illuminated. It is a film of Jarman's life as well as the story of England from the 1960s to the 1980s.
• The Serpentine salutes the unique genius of Derek Jarman
• Derek Jarman the painter
And another piece of Jarman-related news, cinematographer David Watkin died earlier this week. Watkin photographed The Devils for Ken Russell (among many other great films of the Sixties and Seventies), a film which also featured Jarman's striking production design. Watkin was also gay, something I wasn't aware of until I read the Guardian's obituary.
Elsewhere on { feuilleton }
• The gay artists archive
Previously on { feuilleton }
• The Angelic Conversation
• The life and work of Derek Jarman