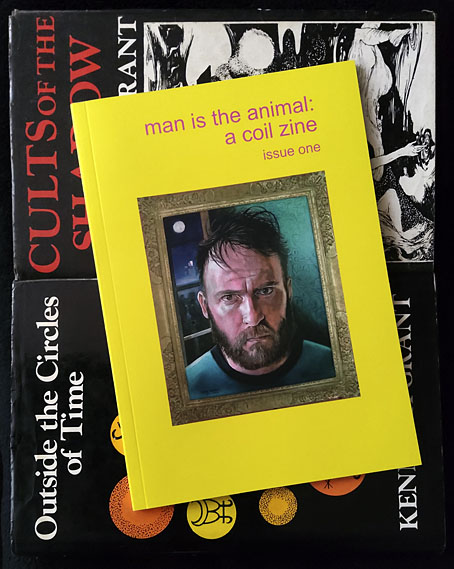 Death is centrifugal / Solar and logical / Decadent and symmetrical / Angels are mathematical / Angels are bestial / Man is the animal —Fire Of The Mind by Coil
In the post this week from Temporal Boundary Press, issue 1 of Man is the Animal: A Coil Zine. A timely publication, given the persistent and increasing interest in Coil, and one whose essays are all of a quality belied by the "zine" label which usually suggests something more fannish and trivial. This is a pleasing object even before you look inside, a perfect-bound A5 booklet with full-colour printing throughout, and a cover painting by Val Denham, an artist with Coil associations that reach back through the Some Bizzare period to art for Marc Almond and Throbbing Gristle. Denham also contributes one of the written pieces, Jhonn is Unbalanced, a touching memoir of Geoff Rushton/John (Jhonn) Balance. Among the other entries is a piece by Benjamin Noys, a writer whose previous studies have included an examination of the connections between my own art for the Reverbstorm comic series and the weird fiction of HP Lovecraft. Noys takes a similar approach here, finding reflections of Coil obsessions in the symbolism of alchemical magic and the weird fiction of Arthur Machen.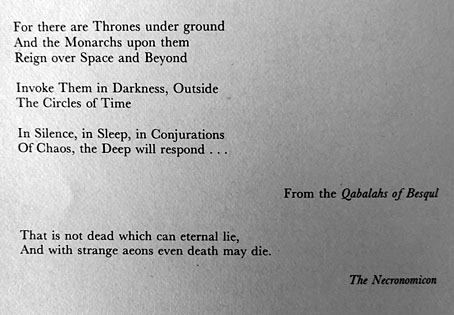 Epigraph from Outside the Circles of Time by Kenneth Grant.
The weird fiction of HP Lovecraft was a Coil obsession, and Lovecraft receives the most attention in a great piece by Andy Sharp which takes its cue from the appearance in Titan Arch of lines from the epigraph for Outside the Circles of Time, an occult study by magus and scholar Kenneth Grant. The latter was another Lovecraft obsessive—no doubt one of the first, given his age—whose books are littered with references to both Lovecraft and Machen. I spotted the Coil/Grant connection many years ago (although quite some time after Love's Secret Domain was released), and acknowledged the link in two pages in The Haunter of the Dark, one of which reprints Grant's epigraph, while the other is a picture with the title In Spaces Between, a line from Titan Arch which is also a reference to the Necronomicon extract in The Dunwich Horror: "The Old Ones were, the Old Ones are, and the Old Ones shall be. Not in the spaces we know, but between them, they walk serene and primal, undimensioned and to us unseen." Sharp does more than merely acknowledge this web of connections, he delves into Grant's dense treatise in search of further correspondences. I've not read Grant's book for many years but this essay makes me think I ought to look at it again. By coincidence (or is it? etc), both Love's Secret Domain and Outside the Circles of Time have been reissued this year, the Grant book by Starfire Publishing.
Contents:
The Vision and the Voice: Esoteric Dimensions of Coil's Vocals by Hayes Hampton
A Hauntology of Coil by Sean Oscar
Are You Loathsome Tonight?: Coil's Transformations by Benjamin Noys
The Horseman Betrays His Steed by Cormac Pentecost
The Spaces Between: Outside the Circles of Time and Love's Secret Domain by Andy Sharp
Jhonn is Unbalanced by Val Denham
Previously on { feuilleton }
• Dreaming Out of Space: Kenneth Grant on HP Lovecraft
• Peter Christopherson Photography & The Art of John Balance Collected
• The White People by Arthur Machen
• Val Denham album covers
• Kenneth Grant, 1924–2011
• Peter Christopherson, 1955–2010
• The Angelic Conversation