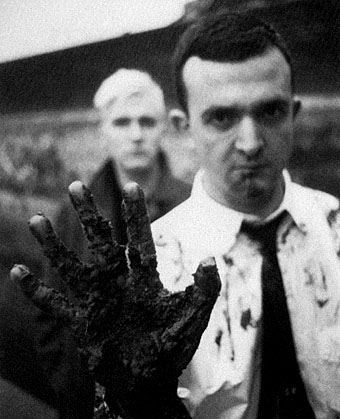 Coil, circa 1984. John Balance (left) & Peter Christopherson (right). Photo by Lawrence Watson.
The depths of the night sky
Reflects in his eye
He says "Everything changes
And everyone dies."

Coil, Blood From The Air (1986)
Yes, everyone dies but you don't always expect it this soon, six years after the sudden loss of John Balance. Coil and Throbbing Gristle were refreshingly direct about the transience of existence so we should no doubt regard these moments with the necessary degree of philosophy. And yet… I've said for years that we lack an adequate complement of innovators, genuine creators, rare minds, and what Robert Anton Wilson used to call Intelligence Agents; such people always seem too few, especially in a world where hatred and ignorance are encouraged by those eager to keep us unfulfilled, the easier to manipulate and control. There's a natural desire each time you discover a like-minded soul to want them to stay around for as long as possible, to help shine a thousand lights in a darkened room.
I never met Peter Christopherson but I saw him on stage with Psychic TV in Manchester in 1983, and as part of Coil for their thrilling performance at the Royal Festival Hall, London, in 2000. We corresponded sporadically via letter and email throughout the 1990s, and spoke on the phone a couple of times. Coil wanted me to create a cover for one of their releases and we talked about this on and off for several years but nothing ever came of the plans, something I regret to this day. Peter bought a drawing off me ten years ago (this one), and he remains one of the few people I've sold any artwork to. I broke my usual rule on that occasion out of respect for his work. That work is mostly acknowledged as being musical, and it's the music—as a member of Throbbing Gristle, Psychic TV, Coil, and TG again—that other obituaries will rightly celebrate. But he was also a talented photographer and graphic designer whose earliest public works were for the design group Hipgnosis in the 1970s. He joined Storm Thorgerson and Aubrey Powell as an assistant in the mid-70s and became a full partner in 1980. As a freelance photographer he shot the first promo pictures of the Sex Pistols in 1976, photos which (if I remember correctly) Malcolm McLaren decided not to use because they looked too heavy. Or maybe too queer…see this appraisal by John Gill from his book Queer Noises. It was Peter Christopherson's design authority that gave the Throbbing Gristle releases a quality many other independent productions lacked in the post-punk era. He brought the same visual finesse to Psychic TV in 1982 and it was painfully obvious when that finesse was withdrawn after he and John Balance left PTV in 1983 to form Coil. I owe Coil more than I can easily articulate. I've spent hours and hours listening to their music whilst working; the full range of their interests probably matched mine more completely than any other group I've encountered. It was a real shock when everything crashed to an end in 2004. It's good to know that the Coil site at Brainwashed has a wealth of interviews and articles going back through the years. And there's still the music, of course.
Fellow TG members Cosey Fanni Tutti and Chris Carter issued some words of remembrance a few hours ago which they end by saying: "Peter was a kind and beautiful soul. No words can express how much he will be missed." A few examples of his photography and design work follow.
Update: Full Guardian obituary by Alexis Petridis | Genesis P-Orridge Pays Tribute To Sleazy.
Promotional poster, 1976.
I suppose it's the combination of the waves and the beach scene and the mention of his name at the Don Cesar filming that brings me to Peter and his idea for Wishbone Ash's New England. Peter, in his private life, preferred the company of men to women and his ideas tended to reflect that mode of masculinity, often with cleverly disguised and ambiguous innuendo. Only he could have come up with a strapping youth sharpening a stick, reminiscent of a scene from Lord of the Flies, or a black-and-white prisoner of war film set in Japan, circa 1952. The implications are clearly sinister and obviously phallic, with the fearsome connotation of adult circumcision (knives and willies just don't go together!) yet the image draws you into the picture. The viewer wants to know more about the story – "I'm sharpening my pencil and you better be ready for it."

Peter had a habit of surprising Storm and me with his particular outlook on life. Hipgnosis were once asked to design a cover for Paul McCartney for his album Tug Of War. You couldn't find a more conservative fellow in the album cover department than Paul McCartney yet, knowing this, Peter presented a picture, beautifully crafted, of a man hanging himself, surrounded in gold leaf, in the style of Gustav Klimt. Paul said politely, "Just not my image." Pity, as it would have been a brave move. I think I got a bit of stick too, for being audacious enough to show that idea to Paul.

Aubrey Powell, For the Love of Vinyl: The album art of Hipgnosis (2008).
Tug of War (1982). Design rejected by Paul McCartney.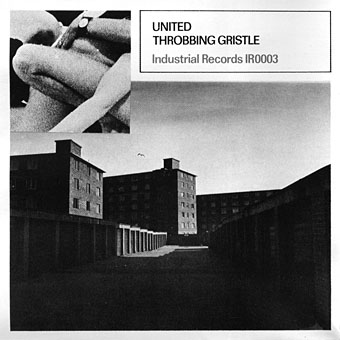 United (1978) by Throbbing Gristle.
Heathen Earth (1980) by Throbbing Gristle.
Discipline (1981) by Throbbing Gristle.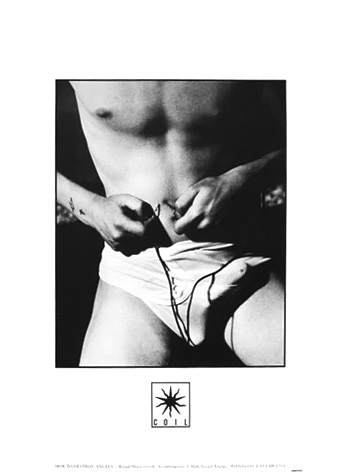 Poster insert from How To Destroy Angels (1984) by Coil.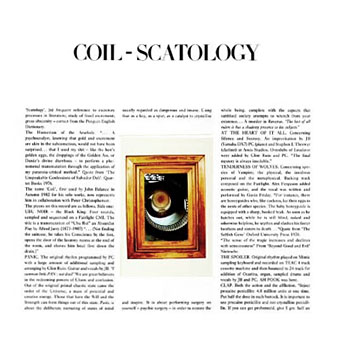 Scatology (1984) by Coil. The album notes begin on the front cover.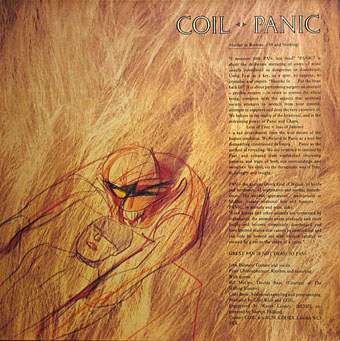 Panic (1985) by Coil.
Horse Rotorvator (1986) by Coil.
Coil Presents Time Machines (1998); cover.
Coil Presents Time Machines (1998); inserts.
Remote Viewer (2002) by Coil.
Elsewhere on { feuilleton }
• The album covers archive
Previously on { feuilleton }
• A playlist for Halloween: Drones and atmospheres
• Gristleism
• A=P=P=A=R=I=T=I=O=N
• In the Shadow of the Sun by Derek Jarman
• The Angelic Conversation
• The Final Academy
• Neville Brody and Fetish Records