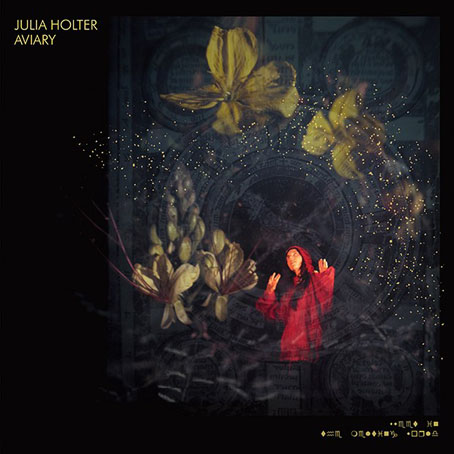 • Julia Holter's next album, Aviary, will arrive next month with a cover design bearing astrological symbols (a cryptic message?) and what looks like a grimoire page in the background, although I may be reading too much into this. Whatever the esoterics signify, the album is a double, and going by the sound of new song I Shall Love 2 it's going to be a good one. Aviary will be released on 26th October just in time for the witch season.
• Donna Ferguson talks to Oscar Wilde's grandson, Merlin Holland, about the manuscript for The Picture of Dorian Gray which includes more openly homoerotic sentences than were included in the printed versions. A facsimile of the manuscript is now available in a limited, numbered edition from SP Books.
• The final single in the excellent Other Voices series from the Ghost Box label is released later this month. Something Out Of Nothing is by Sharron Kraus and Belbury Poly.
…we're still trying to operate this new, paranoid society on what amounts to a psychedelic substrate—with little or no awareness of how our sets and settings are determining our results. The set and setting of the advertiser yield addictive behavioral design and persuasive technologies. The set and setting of the investor lead to algorithmic trading and winner-takes-all, extractive businesses. The set and setting of the military lead to drone warfare. The set and setting of the politician lead to targeted propaganda and digital fascism.

America is unconsciously living in a psychedelic landscape and having a bad trip. We don't realize that we are living in a media environment that offers us an unprecedented capacity over reality. The world may have always been a consensual hallucination to some extent, but never before have we built our world so completely.

The internet is acid, and America is having a bad trip, says Douglas Rushkoff
• Photographia Erotica Historica is a tiny leatherbound collection of antique pornography from Goliath Books.
• Why is the Federal Government threatening an indie book publisher with $100,000 in fines?
• Undead, undead: my illustrations for Dracula are featured at Dangerous Minds. Thanks!
• The Vinyl Factory meets Japanese composer and musician Midori Takada.
• Exploring HP Lovecraft's Gothic roots by Dr Xavier Aldana Reyes.
• From 2013: Dario Argento discussing his films with Alan Jones.
• Aurora Mitchell on Electro pioneer Doris Norton.
• Mix of the week: XLR8R Podcast 558 by DJ T.
• Aviator (1970) by Michael Chapman | Aviation (2000) by Fluxion | Aviation (2001) by Monolake