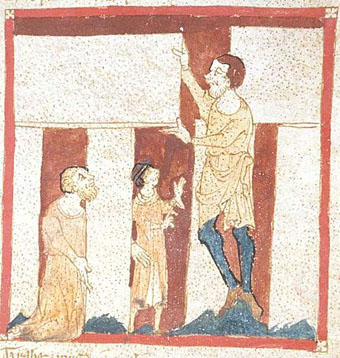 Merlin building Stonehenge (14th century) from Folio 30r of British Library, Egerton 3028.
The Arthurian magus in art and illustration. Despite the antiquity of the Arthur legend there doesn't seem to be much early representation of Merlin outside a few drawings in old manuscripts. The British Library's folio showing the raising of Stonehenge is the oldest known depiction of the ancient structure.
Most of the pictures here are illustrations for the Merlin and Vivien section of Tennyson's Idylls of the King, the first book of which was published in 1859. Vivien (or Viviane, Nimue, etc) is the sorcerous Lady in the Lake who either imprisons Merlin underground or in a tree depending on whose account you read. Edward Burne-Jones' The Beguiling of Merlin has long been my favourite of that artist's paintings. This is only a very small selection of possible pictures, of course. A more complete catalogue would include Nicol Williamson in John Boorman's Excalibur (1981), a performance that some find overly mannered but one that I've always enjoyed.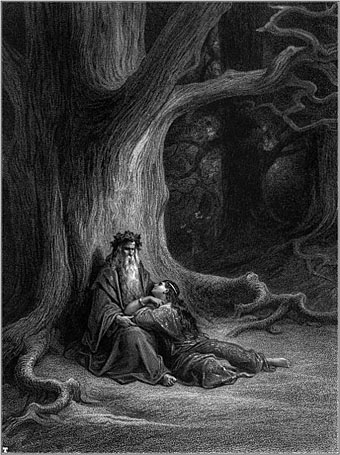 Merlin and Vivien (1867) by Gustave Doré.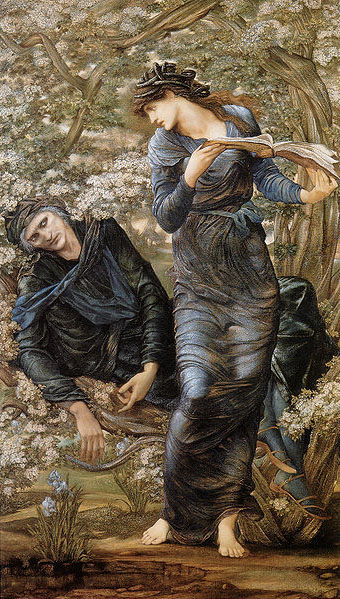 The Beguiling of Merlin (1874) by Edward Burne-Jones.