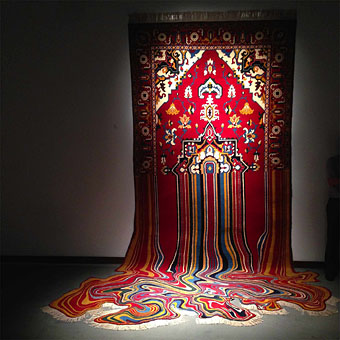 One of Faig Ahmed's melted Azerbaijani rugs.
• "I asked [William Burroughs] about the future of typography and he said that letterforms would go back to hieroglyphs, similar to the ancient Egyptians." Jonathan Barnbrook discussing the thinking behind his design for blackstar, the new David Bowie album.
• "…a thick, yellow fog fills the air, sinks, crawls on the very ground; at 30 paces a house or a steam-ship look like ink-stains on blotting paper." PD Smith review London Fog, a history of the capital's lethal pea-soupers by Christine Corton.
• At Rue Morgue: Dejan Ognjanovic asks seven writers and editors why HP Lovecraft is still relevant. Related: big thanks to Paul Gallagher for plugging my Lovecraft calendar at Dangerous Minds.
• Some end-of-year weirdness from Moon Wiring Club: Into The Chattering Ground, a sample of the new releases available at the MWC website.
• Elaine Lustig Cohen: accidental graphic designer. Related: book covers and other designs by Elaine Lustig Cohen.
• The tomb that architect John Soane built for his wife inspired the shape of Gilbert Scott's red telephone box.
• Mix of the week: Stephen O'Malley at the controls of Stuart Maconie's Freak Zone on BBC Radio 6.
• At Dirge Magazine: S. Elizabeth talks to Alice Rogers about art and occultism.
• Simon Callow on taking 25 years to write a three-volume life of Orson Welles.
• Todd Haynes on Cate Blanchett, Saul Leiter and Queer Cinema.
• Le Freak (1978) by Chic | Freak (2003) by LFO | Jovan Freak (Rune Lindbaek Nomaden Mix) (2012) by Georges Vert