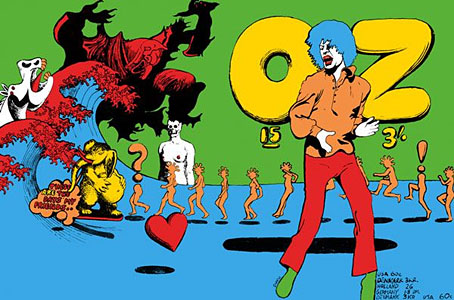 Oz magazine no. 15, October 1968.
The psychedelic art of Australian artist Martin Sharp has featured here on several occasions. Unlike his British and American contemporaries who maintained a single graphic style, Sharp was a versatile artist whose work could range from loose, often cartoony drawing and painting to very detailed collage designs; he was also as happy as any other artist of the period to plunder art history, as the cover for issue 15 of Oz demonstrates. The Mick Jagger figure from that cover was later reworked as a poster for "Turner's Purple Orchestra", one of a number of pieces of Sharp art which can be glimpsed throughout Donald Cammell & Nicolas Roeg's Performance (1970).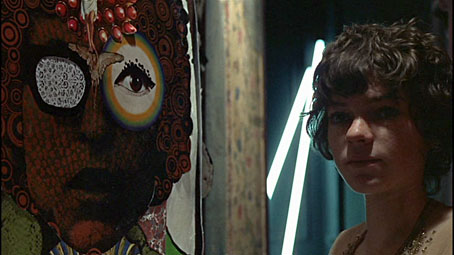 Performance (1970): Michele Breton and a Martin Sharp collage.
Sharp's involvement with Oz magazine, and the creation of a handful of endlessly reproduced designs—the Bob Dylan Mr Tambourine Man poster, Jimi Hendrix in a Jackson Pollock explosion, the sleeve art for Cream's Disraeli Gears—makes his art some of the most visible of the period. People may not necessarily know the name but they'll recognise the work.
In 2009 Sharp's Oz colleague Germaine Greer wrote a warm appraisal of the artist and his work. A few more examples follow. There's a great selection of posters and other art and design here.
• The Guardian: Martin Sharp, Australian artist who came to symbolise the '60s | Martin Sharp in pictures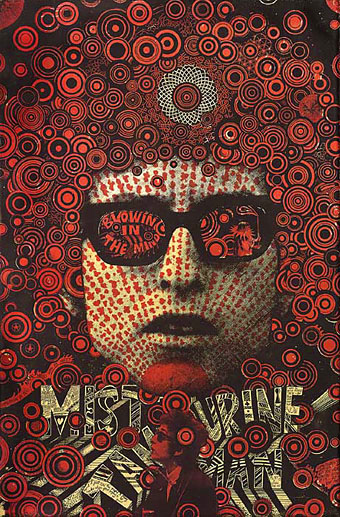 Mister Tambourine Man (1966).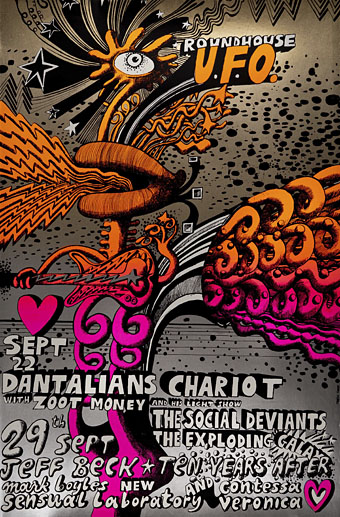 Dantalian's Chariot (1967).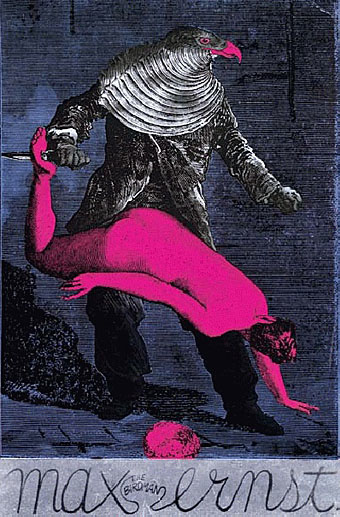 Max (The Birdman) Ernst (1967).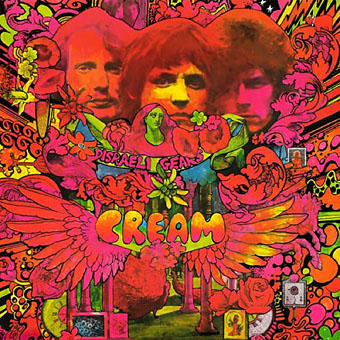 Disraeli Gears (1967) by Cream.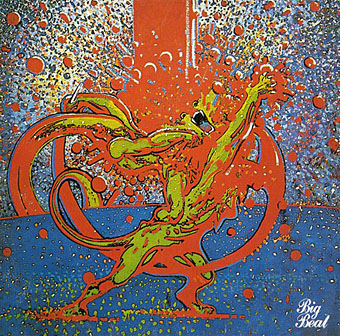 Mighty Baby (1969).
Previously on { feuilleton }
• Design as virus 11: Burne Hogarth
• Max (The Birdman) Ernst