Mighty Baby (1969). Illustration by Martin Sharp.

Yet another album cover prompts this post, part of an occasional series. Mighty Baby were a British rock band who formed out of psychedelic group The Action in the late Sixties, and their music is fairly typical of the period, being "heavy" without any of the psych trappings which—for me—often make everything from that time a lot more interesting. This was a journey undertaken by many groups at the end of that lurid decade, a junking of the playful and evocative side of what was now called rock music in favour of a denim-clad earnestness. This album isn't one I like very much—I'd rather listen to their earlier incarnation—but the cover painting by psych artist Martin Sharp is certainly a startling piece, being a violent mutation of one of the most famous Tarzan drawings by comic artist Burne Hogarth.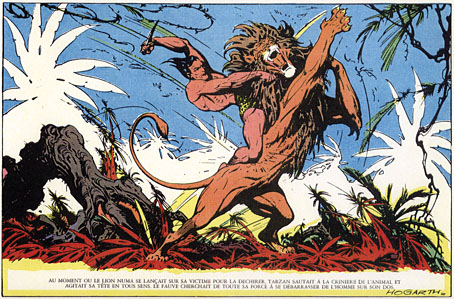 Tarzan by Burne Hogarth (194?).
Hogarth was drawing Tarzan for much of the 1940s and this particular panel showing the Ape-Man attacking Numa the lion dates from the latter part of his run on the series. I wish I could pin this to an actual year but I don't have a complete set of the comics and that detail eluded me. If anyone knows the date, please leave a comment.
Reverbstorm 7 (2000).
Readers of the Savoy comics series, Reverbstorm, which David Britton and I created in the 1990s, will be familiar with its many references to Hogarth and other artists (some of which were catalogued here). The image of Tarzan and Numa was reworked on three separate occasions. The first was a double-page piece in a long run of pages which are the most excessive and outrageous things I've drawn to date. Burne Hogarth saw some of this work, including this spread, and while he wasn't impressed at all by the violence he had the good grace to say some very flattering things about my drawing.
That image of Lord Horror on the solar-phallic lion was reworked for the cover painting in a style intended to resemble the work of Frank Frazetta. This version also tries to match Hogarth's original more closely.
Near the end of Reverbstorm #7 one finds this panel showing Jessie Matthews astride Picasso's bull from Guernica (1937) in the midst of Seurat's Sunday Afternoon on the Island of La Grande Jatte (1884). How the story gets to a point of such intertextual confusion would involve far too much explanation; the curious will just have to buy the comics, or wait for the definitive book edition to appear.
I'm fairly sure I've seen other reworkings of Hogarth's drawing aside from the Sharp version. If anyone knows of others, please leave a comment.
Elsewhere on { feuilleton }
• The album covers archive
Previously on { feuilleton }
• Design as virus 10: Victor Moscoso
• Design as virus 9: Mondrian fashions
• Max (The Birdman) Ernst
• Design as virus 8: Keep Calm and Carry On
• Design as virus 7: eyes and triangles
• Design as virus 6: Cassandre
• Design as virus 5: Gideon Glaser
• Design as virus 4: Metamorphoses
• Design as virus 3: the sincerest form of flattery
• Design as virus 2: album covers
• Design as virus 1: Victorian borders
• My pastiches
• A premonition of Premonition