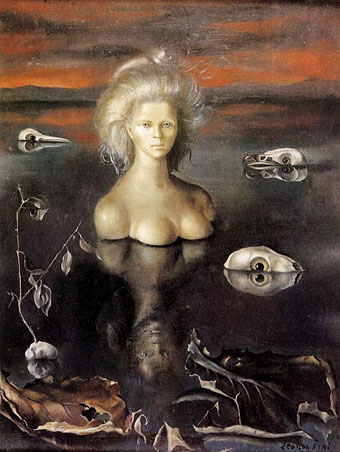 Le Bout du monde by Leonor Fini (1948).
Yes, I'll definitely be going to see this one.
The first major exhibition of women artists and Surrealism to be held in Europe, Angels of Anarchy, opens this autumn at Manchester Art Gallery.

Featuring over 150 artworks by 32 women artists, the exhibition is a celebration of the crucial, but at the time not fully recognised, role that women artists have played within Surrealism. Paintings, prints, photographs, surreal objects and sculptures by well-known international artists including Frida Kahlo, Meret Oppenheim, Leonora Carrington and Lee Miller will be exhibited alongside works by artists less well-known in the UK, such as Emila Medková, Jane Graverol, Mimi Parent, Kay Sage and Francesca Woodman. Manchester Art Gallery is the only venue for this exhibition, making it a once-in-a-lifetime opportunity to see the works of so many significant women artists displayed together, with many of the works on loan from international public and private collections.
Angels of Anarchy runs from 26 September 2009–10 January 2010 at Manchester Art Gallery, and it's a paying event with tickets at £6 (concessions £4, free entry for under 18s and Manchester Art Gallery Friends).
Elsewhere on { feuilleton }
• The fantastic art archive
Previously on { feuilleton }
• The art of Leonor Fini, 1907–1996
• Surrealist women