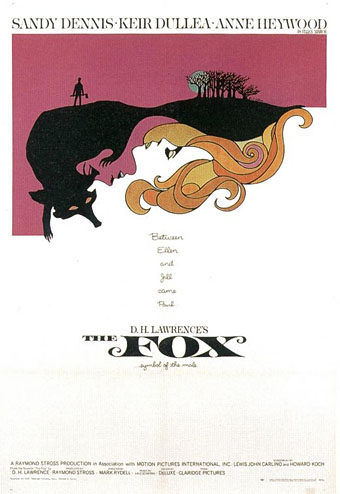 The Fox (1968). Design by Bill Gold, art by Leo & Diane Dillon.
Mark Rydell's The Fox may be regarded unfavourably now for its retrograde idea of a lesbian relationship but that's still a great poster by the Dillons. Equally retrograde (well it was 1957) is Anders als du und ich, a film about wayward German youth directed by ex-Nazi propagandist Veit Harlan:
Klaus is a young man in post-war Berlin. He is drawn to his friend Manfred and, under the encouragement of their acquaintance, Dr. Winkler, explores the underground world of gay clubs and electronic music. His family begins to learn of his other life and do everything they can to set him straight.
A saving grace is the conspicuous deployment of Oskar Sala's Trautonium. They're deviants—of course they like weird electronic music! Sala's instrument was his own invention which means it has a unique pre-Moog sound, famously used by Alfred Hitchcock in the score for The Birds. YouTube has a collection of the electronica moments from Anders als du und ich. Wait for the wrestling scene…
• Netherwood: Last Resort of Aleister Crowley by A Gentleman of Hastings. Related: Jimmy Page's Lucifer Rising sessions part 1 and part 2.
• "This coming 16 June, [BBC] Radio 4 will be a wall-to-wall Joycefest, kicking off at 9am and running until midnight."
• A World Where Architecture is the Driving Force Behind Society, Core77 on the Cités Obscures of François Schuiten.
• At The Hooded Utilitarian an examination of the thorny problem of adapting Lovecraft for the comics medium.
• Plates from La Plante et ses Applications Ornementales (1897–1900) by Eugene Grasset.
• Coilhouse found a rough copy of Todd Haynes' Superstar: The Karen Carpenter Story.
• Three Quick Ways to Introduce Yourself to the Work of Harlan Ellison.
• Daniel Buren's Monumenta 2012 at the Grand Palais, Paris.
• Our Sorrows, a new video from Julia Holter.
• I, Cyclops: Monocularity in a 3-D World.
• JG Ballard: The Concordance.
• RIP Pete Cosey.
• Pete Cosey with Miles Davis et al, November 1973: Ife | Turnaroundphrase