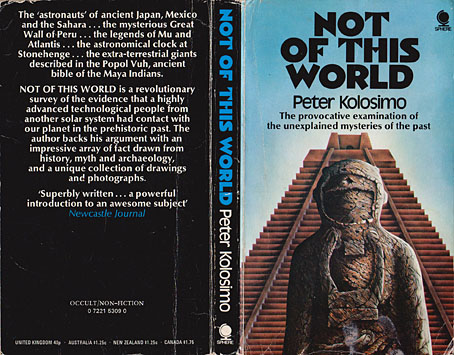 Wu Ming, a communist writing collective known for its historical fiction, sees Kolosimo as using pseudohistory as a tool to shake people from their belief that capitalist society is natural and transhistorical, opening minds to other possibilities for how humans can live. They regret that popular proponents of his theories today, like Graham Hancock and Erich von Däniken, are unable to recognize the political motivations behind his project: "Nothing of his radicality survives in today's copycats… Every corner has been blunted, the heresy has become telegenic, but we know that the revolution will not be televised."

The secret history of Marxist alien hunters by AM Gittlitz
I received the Sphere edition of Peter Kolosimo's book as a Christmas present in 1974, and being 12 years old at the time took its theories fairly seriously. As a work of pseudohistory it's as poor as the books of Erich von Däniken but I always liked the title, and it happens to be the place I first encountered the mysterious words "Popol Vuh", a name that would acquire a very different significance a few years later. Kolosimo also joins Kenneth Grant in taking HP Lovecraft's work as a thin fictionalisation of supposed fact. For a serious dismantling of Not of This World see this review (the first of three parts) by "skeptical xenoarchaelogist" Jason Colavito.
• The Archons are back: Erik Davis talks with Gnostic scholar Matthew Dillon about religious mourning, the Nag Hammadi library, sex-magick Jesus, the Gnostic Eden, David Icke's lizards, and the power of the Archons as an allegory of contemporary technological and political power.
• Crystal Voyager (1973) is a surfing film by David Elfick that ends with a 23-minute sequence of slow-motion waves set to Echoes by Pink Floyd. Some of the same footage later appeared in the final scenes of Peter Weir's The Last Wave (1977).
• Sweet artifice: "Dandies in the age of decadence favoured synthetics over nature, nowhere more so than in perfumery's fabulous counterfeits," says Catherine Maxwell.
• Now for a lampshade solo: Pascal Wyse on how the Radiophonic Workshop built the future of sound.
• Wilde about Paris: Alex Dean on the sex, drink and liberation of Oscar Wilde's "lost" years.
• Bee in the City: the vanguard of an invading army from Planet Bee.
• Five books that most inspired Alexander McQueen.
• Colin Newman's favourite albums.
• Echoes (1969) by Leon Thomas | Echo Waves (1974) by Ash Ra Tempel | Not Of This World (1988) by Danzig