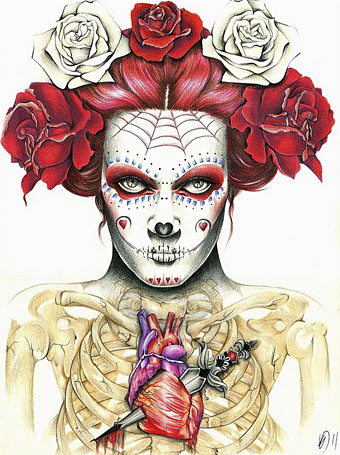 Heartsick (2011) by Kelly Durette.
• Now that Scott Walker's Bish Bosch album is out and causing the usual consternation, the spotlight-shy singer/composer has been doing a surprising amount of promotional interviews. Simon Hattenstone talked to him for the Guardian at the end of last month; this week it was John Doran's turn at The Quietus. One quote from the latter piece stood out in the light of this week's posts: "…the music we're making is meant to be an aural version of the HR Giger drawings for Alien. It always sounds to me like those look."
• Satanica is a limited-edition publication curated by Gio Black Peter & Christopher Stoddard "for anyone who rejects societal norms, for those dedicated to a life of pleasure, excess and self-reflection".
• Sci-Fi-O-Rama has put five years' worth of blog pictures onto Pinterest. I don't really need to do that, there's already a diverse crowd of Pinterest users compiling their own selection of things posted here.
As Susan Sontag once observed, pornography is practical. It was designed as a marital aid, and its vocabulary should follow natural biological rhythms and stick with hot-button words in order to produce a predictable climax. It is not about sex but is sex. Whereas the great sex writers (Harold Brodkey, DH Lawrence, Robert Gluck, David Plante, the Australian Frank Moorhouse) have a quirky, phenomenological, realistic approach to sex. They are doing what the Russian formalists said was the secret of all good fiction – making the familiar strange, writing from the Martian's point of view.

Edmund White on writing about sex in fiction
• When pirate DVDs of films by Cocteau, Bresson and Pasolini are on sale in a Mexican market, life in the 21st century increasingly resembles a William Gibson novel. Joanne McNeil investigates.
• Copies of City Fun, Manchester's premier music fanzine/alt culture mag (founded 1978), can now be read online at the Manchester District Music Archive.
• Linked everywhere during the past few days, the astonishing map of bomb hits on London during the Blitz (October 1940 to June 1941).
• At 50 Watts: 30 Vintage Magazine Covers from Japan and Alfred Kubin's illustrations for Lesabéndio: An Asteroid Novel (1913) by Paul Scheerbart.
• Earlier this year for Frieze Magazine Geeta Dayal talked to musical collaborators of the great German producer Conny Plank.
• Invisible Ink by Christopher Fowler, "the extraordinary stories of over one hundred forgotten authors".
• Cynthia Carr talks about Fire in the Belly, her biography of American artist David Wojnarowicz.
• "Blasphemy, Filth, And Nonsense" More Aleister Crowley ephemera at Front Free Endpaper.
• At Strange Flowers: Surrealist art by Jindrich Heisler (1914–1953).
• Vladimir Nabokov wrote to Alfred Hitchcock in 1964.
• Scott Walker's four tracks from the Nite Flights album (1978): Shutout | Fat Mama Kick | Nite Flights | The Electrician.