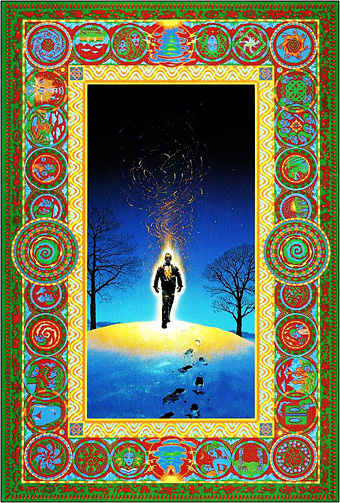 Cover art by Tim White for Weaveworld (1987) by Clive Barker.
• Another week leading with obituaries but that's where we are just now. Among others, we had film maker Bruce Baillie, cartoonist Mort Drucker, lesbian/gay rights activist Phyllis Lyon, film director Nobuhiko Obayashi, artist Tim White, and music producer Hal Willner. Related to the last: Hal Willner's Vanishing, Weird New York.
• Open Door is a new recording by Roly Porter from his forthcoming album, Kistvaen. I designed the CD and vinyl packaging for this one.
• From 1995: Peter Wollen on dandyism, decadence and death in Donald Cammell & Nicolas Roeg's Performance.
• "Fear, bigotry and misinformation—this reminds me of the 1980s AIDS pandemic," says Edmund White.
• David Lynch wants you to meditate, maybe make a lamp during self-isolation.
• "Weird tale" by Secret Garden author Frances Hodgson Burnett discovered.
• Behind the iron curtain, the final frontier: Soviet space art in pictures.
• Mix of the week: Secret Thirteen Mix 301 by Asher Levitas.
• At Dennis Cooper's: Raymond Queneau, Party Animal.
• Oren Ambarchi Archive at Bandcamp.
• Japan's Tourism Poster Awards.
• Hal Willner produces: Juliet Of The Spirits (1981) by Bill Frisell | Apocalypse (1990) by William S. Burroughs | The Masque Of The Red Death (1997) by Gabriel Byrne