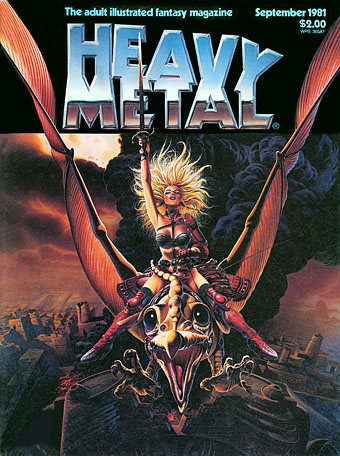 Taarna by Chris Achilleos for Heavy Metal, September 1981. A typical piece by Achilleos, whose death was announced this week, and very typical for a Heavy Metal cover. Achilleos was a prolific illustrator.
• New music: The Truth, the Glow, the Fall (Live At Montreux) by Anna von Hausswolff, from her forthcoming album, Live At Montreux Jazz Festival. The last gig I went to was in October 2019, to see Sunn O))) supported by Anna von Hausswolff. Easily one of the best things I've ever experienced. Meanwhile, Anna von Hausswolff has had to cancel a Paris church concert following protests by a rabble of outraged Catholics. Bravo les crétins!
• "…it is easy to forget that Montesquiou—regardless of his own work—was not merely emblematic of Decadence, he was essentially patient zero in its viral spread." Strange Flowers explores the exquisite life of the bat-obsessed, hydrangea-cultivating Robert de Montesquiou.
• "Kotatsu have been around longer than we imagine. And art history has the proof." Spoon & Tamago on an old Japanese method for warming a room during winter. Also further evidence that cats always find the warmest place in any house.
• Dennis Cooper's favourite fiction, poetry, non-fiction, film, art, and internet of 2021. Thanks again for the link here!
• The Wire magazine has opened its collection of articles by the late Greg Tate so they may be read by non-subscribers.
• "Neil Bartlett is a gay writer's gay writer," says Jeremy Atherton Lin reviewing Bartlett's latest, Address Book.
• James Balmont on the psychedelic cinema of Nobuhiko Obayashi.
• Steven Heller's font of the month is Erotique.
• Northern lights photographer of the year.
• The Strange World of…Takuroku.
• RIP Robbie Shakespeare.
• Robbie Shakespeare's bass x 3: King Tubby Meets Rockers Uptown (1974) by Augustus Pablo | Nightclubbing (1981) by Grace Jones | Bass And Trouble (1985) by Sly & Robbie