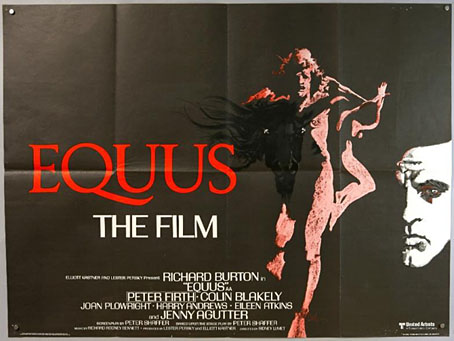 Poster art by Bob Peak.
• Sidney Lumet's 1977 film of Peter Shaffer's Equus receives a limited blu-ray release by the BFI in August. Richard Burton's performance has always received a mixed response (I've never been in the anti-Burton camp) but the film is serious and well-made. And, as with The Offence (1973), there's the thrill of seeing Lumet turn his attention away from his beloved New York City to examine British lives.
• "Astronomer claims to have pinpointed date of Vermeer's View of Delft." Yes, but how long did it take Vermeer paint the view? Speaking as someone who used to paint a lot, I'd say two or three days at least. Then there's that awkward thing known as "artistic licence"…
• "I was taken aback by the antic side of Borges. He was irreverent, funny, insistent on his ways, and brilliantly talkative." Jay Parini on Jorge Luis Borges, and his experience as the writer's chauffeur in the Scottish Highlands.
• Strange Islands: Benjamin Welton on a favourite cinematic micro-genre I explored here a few years ago: the mysterious tropical island that's a home to fearsome beasts and outsized (often deranged) personalities.
• Greydogtales on The Sapphire Goddess of Nictzin Dyalhis, the Weird Tales writer with a name like a character from one of his stories.
• "I came for the giant phalluses and stayed for the joy of being a gay person." Eight artists on the influence of Tom of Finland.
• Tamsin Cleary on Nobuhiko Obayashi's House (1977) which she calls "the world's most demented haunted house film". It really is.
• The Gone Away, a short film by Sean Reynard for the forthcoming album from Belbury Poly.
• Moorcography: the beginnings of an online Michael Moorcock bibliography.
• "Our sound engineer got a death threat": Andrew Male on Olivia, a lesbian record label.
• Bajo el Signo de Libra explores the art of Aubrey Beardsley.
• At Dennis Cooper's: Hans-Jürgen Syberberg Day.
• The secret drawings of Great Britain's UFO Desk.
• Wyrd Daze Lvl.4 is here.
• The Four Horsemen (1971) by Aphrodite's Child | All The Pretty Little Horses (2004) by Coil | When The Horses Were Shorn Of Their Hooves (2018) by Dylan Carlson