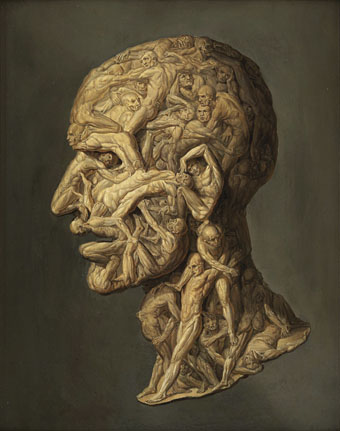 Testa Anatomica (1854) by Filippo Balbi.
• The New School of the Anthropocene is "…an experiment. But it is also an act of repair. In partnership with October Gallery in London, we seek to reinstate the intellectual adventure and creative risk that formerly characterised arts education before the university system capitulated to market principles and managerial bureaucracy… (more)"
• "Every once in a while, you come across old music that generates a shock of new excitement." Geeta Dayal on Oksana Linde whose electronic compositions are being released in a retrospective collection next month.
• More Walerian Borowczyk: Anatomy of the Devil, a collection of Borowczyk's short stories, newly translated into English by Michael Levy, and with a cover design by the Quay Brothers.
• Washing machines, garden snails, and plastic surgery: A stroll through the Matmos catalogue. Related: "Why scientists are turning molecules into music."
• Coming soon from Strange Attractor: Boogie Down Predictions, Hip Hop, Time and Afrofuturism, edited by Roy Christopher.
• At Spoon & Tamago: Exploring Japan's historical landmarks and shrines in the middle of streets.
• New music: Adrian Sherwood Presents: Dub No Frontiers, music by female dub artists.
• Winners of the 2022 Milky Way Photographer of the Year.
• A Vision In Many Voices: The art of Leo and Diane Dillon.
• Molecular Delusion (1971) by Ramases | DNA Music (Molecular Meditation) (1985) by Riley McLaughlin | Pop Molecule (Molecular Pop 1) (2008) by Stereolab