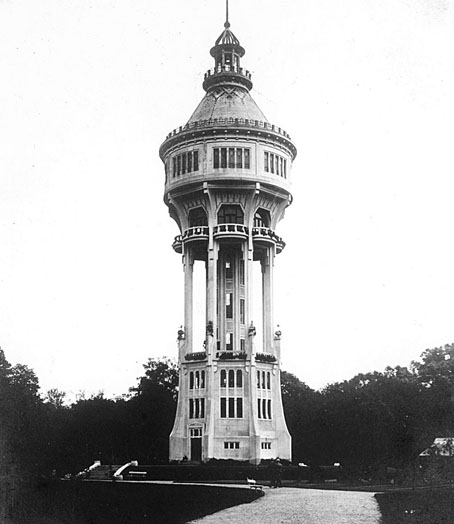 Water Tower (1914), Margaret Island, Budapest, Hungary.
• George Bass on five ways The Year of the Sex Olympics (1968) predicted the way we live now. Nigel Kneale's TV play will be reissued on DVD next week.
• Ballardism (Corona Mix): three new drone pieces by Robert Hampson available as free downloads.
• Grace Jones: where to start in her back catalogue; John Doran has some suggestions.
Hal was the wry and soulful and mysterious historical rememberer. He specialized in staging strange musical bedfellows like Betty Carter and the Replacements or The Residents backing up Conway Twitty. Oh, the wild seeds of Impresario Hal. He was drawn equally to the danger of a fiasco and the magical power of illumination that his legendary productions held. Many years ago he bought Jimmy Durante's piano along with Bela Lugosi's wristwatch and a headscarf worn by Karen Carpenter. Some say he also owned Sarah Bernhardt's wooden leg. He had a variety of hand and string puppets, dummies, busts of Laurel and Hardy, duck whistles and scary Jerry Mahoney dolls and a free ranging collection of vinyl and rare books. These were his talismans and his vestments because his heart was a reliquary.

Tom Waits pens a letter to remember Hal Willner
• The food expiration dates you should actually follow according to J. Kenji López-Alt.
• Blown-up buildings and suffocating fish: the Sony world photography awards, 2020.
• Rumbling under the mountains: a report on Czech Dungeon Synth by Milos Hroch.
• Sophie Pinkham on The Collective Body: Russian experiments in life after death.
• Mix of the week: Spring 2020: A Mixtape by Christopher Budd.
• Olivia Laing on why art matters in an emergency.
• At Dennis Cooper's: Bloody.
• Blood (1972) by Annette Peacock | Blood (1994) by Paul Schütze | Blood (1994) by Voodoo Warriors Of Love