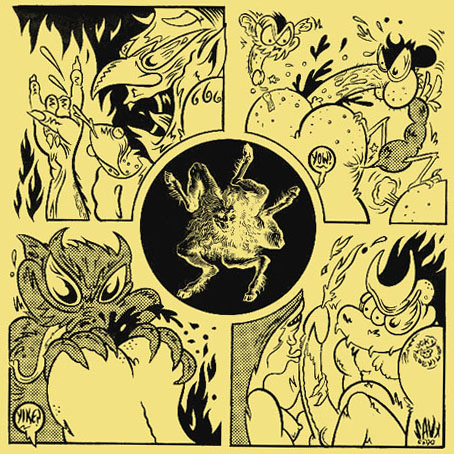 Seven-inch sleeve design by Savage Pencil for Wrong Eye (1990) by Coil.
• "Can you use sensory deprivation to explore ESP? And then make music from the process?" Drew Daniel and MC Schmidt of Matmos decided to find out for their new EP. Related: Occult Voices—Paranormal Music, Recordings of Unseen Intelligences, 1905–2007 at Ubuweb. Details of the original CD release can be found here.
• Gorgeous Gallery: The Best in Gay Erotic Art is a new book by David Leddick featuring the work of contemporary gay artists. Howard G. Williams has a review at Lambda Literary.
• Trip or Squeek by Savage Pencil, a book collection of the artist's comic strips for The Wire magazine, forthcoming from Strange Attractor Press.
The novels of the middle period are Burgess's most vital because it was in these that he forged what we might now recognize as the Burgessian – the antic puns and wordplay, the etymological digressions, the opacity, the glamorous pedantry, the tympanic repetitions, and an alliterative, assonantal musicality that makes every sentence seem vivid and extrovert: "Seafood salt with savour of seabrine thwacking throat with thriving wine-thirst"; "the lucent flawlessness of the skin, of the long fleshly languor that flowered into visibility"; "he was in a manner tricked, coney-caught, a court-dor to a cozening cotquean". This is Burgess's description of an Elizabethan brothel: "He entered darkness that smelled of musk and dust, the tang of sweating oxters, and, somehow, the ancient stale reek of egg after egg cracked in waste, the musty hold-smell of seamen's garments, seamen's semen spattered, a ghost procession of dead sailors lusting till the crack of doom".

Ben Masters on A Clockwork Orange and its creator, fifty years on
• A streaming album for the beginning of autumn, the self-titled debut by Eraas, available in a range of formats at Bandcamp.
• "How Collecting Opium Antiques Turned Me Into an Opium Addict."
• Ted Hughes reads from Crow. Related: Raptors by Leonard Baskin.
• Janitors of Lunacy: Jonny Mugwump remembers Coil.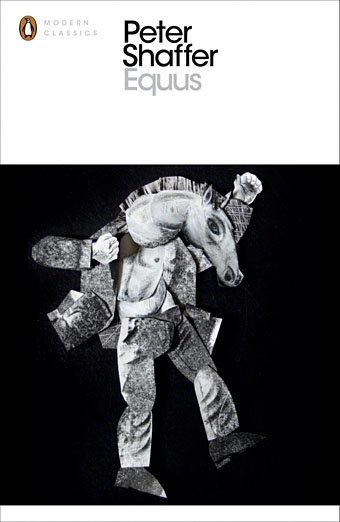 Back in June I suggested Clive Hicks-Jenkins' paintings as potential artwork for Penguin's Modern Classics series. Last week Clive revealed that Penguin will be using one of his painted maquettes for a new edition of Equus next year.
• 150 Years of Lesbians and Other Lady-Loving-Ladies
• Color Sound Oblivion: a Coil/TG/related Tumblr.
• Tune in, psych out: the new black psychedelia.
• The Hills Are Alive (1995) by Coil | QueenS (2012) by THEESatisfaction | Goldblum (2012) by Oddience.