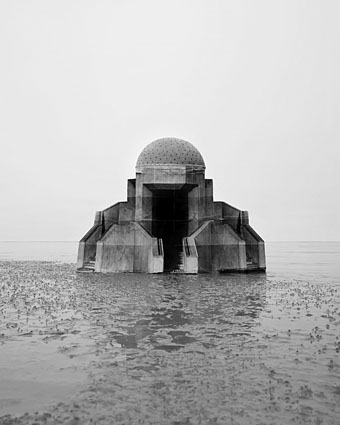 Observatoire IX from the Observatoires series by Noemie Goudal.
• "Before Lady Raglan's intervention, this figure had been anonymous. She gave him a name: the Green Man." Josephine Livingstone on the persistence of a supposed figure from pagan folklore.
• Ben Wheatley: "Financing a film as crazy as [High-Rise] takes good casting". Related (in a Ballardian sense): the abandoned hotels of the Sinai Desert.
• "We were in danger of becoming full-time, paid up musicians…" Drew Daniel and Martin "MC" Schmidt of Matmos look back over their career.
Fahey didn't make many new friends with his scything dismissal of the folk revival. He distrusted the way that folkies regarded music as a carrier for the correct political messages of the moment. As Lowenthal puts it: "To him, the student idealists had naïve worldviews and dreamed of unrealistic political utopias," whereas Fahey "attempted to channel darkness and dread through his music." For Woody Guthrie and Pete Seeger devotees, the ideological message came first, with musical tone or trickery a distant second. As Fahey saw it, the dizzyingly strange source music they borrowed from and then built their careers on emerged as little more than a scrubbed-up ventriloquist's doll, all the coarse grain and troubling metaphysic of its original voices jettisoned. He also detected high condescension and low reverse racism in how the folk-revival people preferred their old blues guys barefoot and wearing dungarees—even if they now usually dressed in sharp suits and often preferred to play amplified, electric urban blues.

Ian Penman on John Fahey
• "It's amazing how quickly a sound can lose its moorings and float off into this kind of unchartered territory," says Robin The Fog.
• Mixes of the week: FACT Mix 540 by Via App, and Secret Thirteen Mix 178 by BlackBlackGold.
• Oliver Wainwright on Edward Johnston, designer of the typeface for the London Underground.
• At Dennis Cooper's: DC's: Spotlight on…The Free-Lance Pallbearers (1967) by Ishmael Reed.
• Each drop of Hennessy X.O is an Odyssey: Nicolas Winding Refn makes an alcohol ad.
• Wayne Shorter & Herbie Hancock pen an open letter to the next generation of artists.
• Japan's scariest manga artist (Junji Ito) loves Japan's creepiest cosplayer (Ikura).
• "He was a sexual outlaw." Jack Fritscher's love affair with Robert Mapplethorpe.
• Peter De Rome: the RAF pilot who became "the grandfather of gay porn".
• The Strange Case of Mr William T. Horton
• RIP Big George Martin and Ken Adam.
• Nine Feet Underground (1971) by Caravan | Green Bubble Raincoated Man (1972) by Amon Düül II | Betyárnóta (Outlaw Song, 1989) by Muzsikás