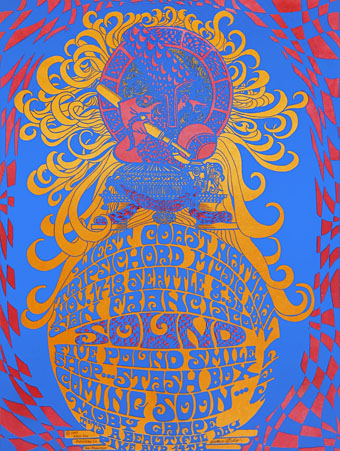 San Francisco Sound (1967). Art by Wallace Studio, Seattle.
• RIP gay porn pioneer Peter de Rome. BUTT posted de Rome's surprisingly daring Underground (1972), a film in which two men have an unfaked sexual encounter on a New York subway train. That film and others are available on the BFI's DVD collection. Related: Brian Robinson remembers a director of films whose supporters included Andy Warhol, William Burroughs and John Gielgud.
• "My stuff is implicitly critical of television as it is now," explains Jonathan [Meades], "Television used not to be as openly moronic as it has become…" A lengthy and typically pugnacious Meades interview with Remy Dean.
• Thurston Moore remembers the Burroughs-themed Nova Convention staged in New York in 1978. William Burroughs 100—Nova Convention is a retrospective exhibition running at Red Gallery, London, next month.
How are we expected to take seriously…any work which appears to have engaged less than the whole passionate attention of its author? To be fobbed off, at the last, with something which we feel to be less true than the author knew it to be, challenges the importance of the whole art of writing, and instead of enlarging the bounds of our experience, it leaves them where they are.

Katherine Mansfield was also a book reviewer.
• JG Ballard's Crash is reissued in August by Fourth Estate with an introduction by Zadie Smith. There's a tantalising extract from the intro at the NYRB or you can read the whole thing if you're a subscriber.
• "Between 1959 & 1980 Shirley Collins changed the course of folk music in England & America. Thirty years after disappearing, she's back."
• Photos by Anne Billson of one of the more attractive Parisian arcades. Related (in a flâneur sense): Christina Scholz's Vancouver dérive.
• "Why did Borges hate soccer?" asks Shaj Matthew. Related: George Orwell on the same subject.
• Mixes of the week: FACT mix 447 by Forest Swords, and Programme 13 from Radio Belbury.
• At Dangerous Minds: Roland Topor's cheerfully violent illustrations from Les Masochistes.
• Rainy Day Psychedelia: Ben Marks on Seattle's neglected 1960s poster scene.
• Strange Flowers looks at Oskar Schlemmer's Triadic Ballet designs.
• A Journey to Avebury: Stewart Lee interviews Julian Cope.
• It's All Over Now (1963) by The Valentinos featuring Bobby Womack | It's All Over Now (1964) by The Rolling Stones | It's All Over Now (1974) by Ry Cooder