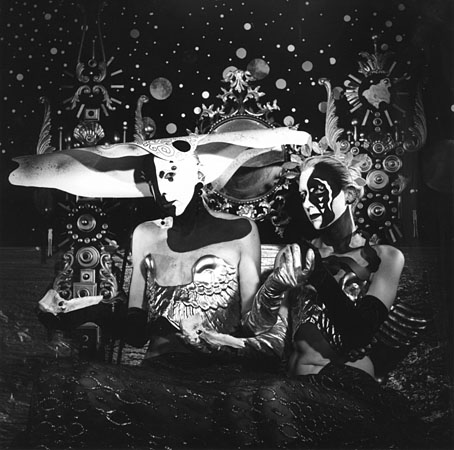 Invitation to Yin and Yang by Steven Arnold.
"Less is NOT more, MORE is more, less is less."

Steven Arnold
Thanks to Monsieur Thombeau for pointing the way to The Steven Arnold Archive, a respository of biographical and career detail about Steven Arnold (1943–1994):
…a California-based multi-media artist, spiritualist, gender bender, and protégée of Salvador Dalí. His work consisted of drawings, paintings, rock and film posters, makeup design, costume design, set design, photography, and film.
Arnold's work with outrageous performance troupe The Cockettes seems to receive more attention today than his other creations so it's good to see the balance being redressed. It was a surprise, for instance, to find he'd drawn a poster in 1967 for The Matrix club, San Francisco. Similar works are mentioned but the site doesn't have any examples and I've yet to see any elsewhere.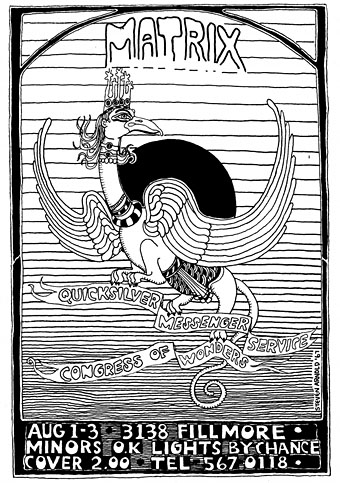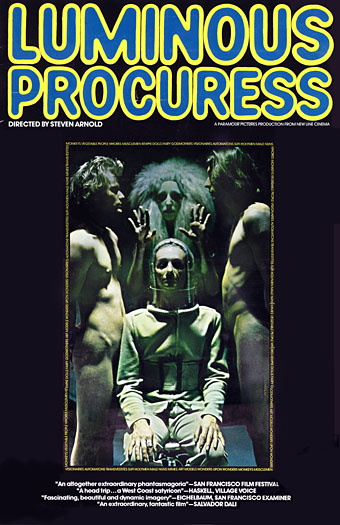 And I haven't seen the Cockettes film, Luminous Procuress (1971) either. Salvador Dalí unsurprisingly responded with enthusiasm to its atmosphere of androgynous weirdness:
Luminous Procuress is an altogether extraordinary, individualistic phantasmagoria. It was filmed entirely in San Francisco over a two-year period, and describes the adventures of two wandering youths in San Francisco who visit the home of a mysterious woman, the Procuress. She is an elegant emblem of sorcery, her vivid features glowing under bizarre, striking maquillage, and one is not certain who she is or where she intends to lead the protagonists. Although the language she speaks is vaguely Russian, it appears that the Procuress has psychic powers. She discerns a sympathetic response to her on the part of the youths, and by magical means, conducts them through fantastic rooms, on a psychic journey… (more)
Definitely one for the future viewing list. Meanwhile, one of Arnold's tableaux photos, The Advantages of Modern Marriage, is currently on display in Cruising the Archive: Queer Art and Culture in Los Angeles, 1945–1980 at the ONE National Gay & Lesbian Archives, Los Angeles. The exhibition runs to April 1st, 2012.
Previously on { feuilleton }
• James Bidgood