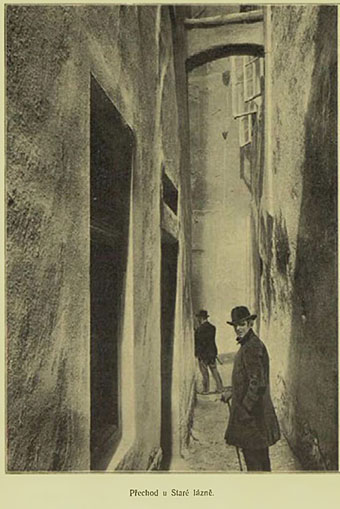 The Prague Ghetto, 1902, by A. Kaspara.
I looked away from him, and gazed instead at the discoloured buildings, standing there side by side in the rain like a herd of derelict, dripping animals. How uncanny and depraved they all seemed. Risen out of the ground, from the look of them, as fortuitously as so many weeds. Two of them were huddled up together against an old yellow stone wall, the last remaining vestige of an earlier building of considerable size. There they had stood for two centuries now, or it might be three, detached from the buildings around them; one of them slanting obliquely, with a roof like a retreating forehead; the one next to it jutting out like an eye-tooth.

Beneath this dreary sky they seemed to be standing in their sleep, without a trace revealed of that something hostile, something malicious, that at times seemed to permeate the very bricks of which they were composed, when the street was fllled with mists of autumn evenings that laid a veil upon their features.

In this age I now inhabit, a persistent feeling clings to me, as though at certain hours of the night and early morning grey these houses took mysterious counsel together, one with another. The walls would be subject to faint, inexplicable tremors; strange sounds would creep along the roofs and down the gutters—sounds that our human ears might register, maybe, but whose origin remained beyond our power to fathom, even had we cared to try.

(Translation by Mike Mitchell)
Watching Jiri Barta's films again, and thinking about his unfinished adaptation of The Golem, prompted me to return to the source.
Previously on { feuilleton }
• Stone Glory, a film by Jirí Lehovec
• The Face of Prague
• Josef Sudek
• Das Haus zur letzten Latern
• Hugo Steiner-Prag's Golem
• Karel Plicka's views of Prague
• Barta's Golem