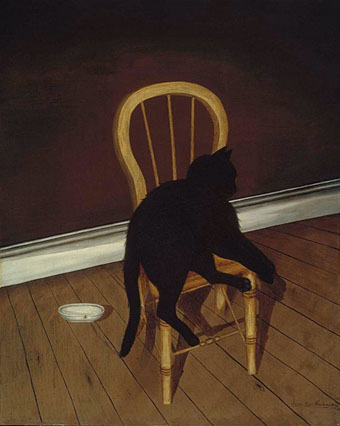 Black Cat on a Chair (1850–1860) by Andrew L Von Wittkamp.
• "A little bit of acid, lots of weed, and too much Castaneda and I was ready to move from the magical realm of Middle Earth into a world that was much stranger than any involving hairy dwarves and white wizards…" Too Much to Dream by Peter Bebergal, "a psychedelic American boyhood".
This year's Booker prize isn't about the power of the new – there's no experiment with form or strangeness of imagination. The winner may get on the bedside tables of middle England, but that's not as important as changing the way that even one person dreams.

Jeanette Winterson throws the cat among the pigeons.
• 50 Watts continues to show us things you'd be hard-pressed to find elsewhere: illustrations by TagliaMani from a new edition of Les Chants de Maldoror, and War Is a Verb, collages by Allan Kausch.
• Don't go in the swimming pool! Coilhouse directs us to Fantasy: music by French outfit DyE with a weird and nasty animation by Jérémie Périn.
• Ace album cover designer and photographic Surrealist Storm Thorgerson is having another exhibition at IG Gallery, London.
• The Art of Leo and Diane Dillon, an art and illustration archive.
• John Turturro reads a short story by Italo Calvino.
• Spaceport America by Foster + Partners.
• Your Body of Work by Olafur Eliasson.
• Wonder-Cat cures all ailments.
• Krazy Kat (1927) by Frankie Trumbauer & His Orchestra with Bix and Lang | Pussy Cat Dues (1959) by Charles Mingus | Katzenmusik 5 (1979) by Michael Rother | Big Electric Cat (1982) by Adrian Belew | Purrfect (1996) by Funki Porcini.