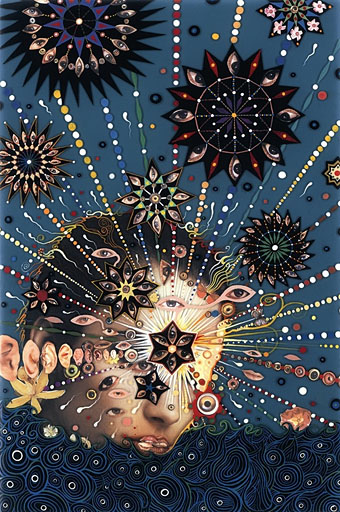 Summer Swell (2007) by Fred Tomaselli. The artist is interviewed at AnOther.
• Mixes of the week for the season of mists and mellow fruitfulness: Forever Autumn Mixtape by The Outer Church, and celebrating what would have been Trish Keenan's 45th birthday: Trish's Toys & Techniques Birthday Tape (with cover art by Julian House).
• Jirí Kolár: His Life, Work and Cultural Significance to the Czech Republic. Leah Cowan looks into the life and work of this influential Czech artist. Related: Jirí Kolár: poet and collage artist, and collages, rollages and prollages by Jirí Kolár.
• "Name any well-known poet from any age, any country. He or she wrote at least one poem about death, most likely several poems." Russ Kick introduces his new book, Death Poems.
[M]any pictures in the splendid exhibition at the British Museum show men having sex with men. One of the earliest erotic handscrolls, from the 15th century, shows a Buddhist priest casting longing glances at his young acolyte. Indeed, among some samurai, male love was considered superior to the heterosexual kind. Women were necessary to produce children, but male love was purer, more refined.

The question is why were Japanese – compared not just with Europeans, but other Asians, too – so much more open to depicting sex? One reason might be found in the nature of Japanese religion. The oldest native ritual tradition, Shinto, was, like most ancient cults, a form of nature worship, to do with fertility, mother goddesses, and so forth. This sometimes took the form of worshipping genitals, male as well as female.

Ian Buruma on The joy of art: why Japan embraced sex with a passion. Shunga: Sex and Pleasure in Japanese Art is a forthcoming exhibition at the British Museum.
• Harold Offeh on how the cosmic life and music of Sun Ra inspired the artwork decorating the Bethnal Green, Notting Hill Gate and Ladbroke Grove Tube stations in London.
• Fearful symmetry: Roger Penrose's tiling by Philip Ball. Related: Penrose Tiles Visualizer, and lots more Penrose tiling links at The Geometry Junkyard.
• Masculine / Masculine. The Nude Man in Art from 1800 to the Present Day, a new exhibition at the Musée d'Orsay.
• Into the Croation Zone: more derives from Christina Scholz here, here, and here.
• Stephen Eskilson on Heteronormative Design Discourse.
• The Zero of the Signified (1980) by Robert Fripp | The League of Gentlemen (Fripp/Lee/Andrews/Toobad, 1981): Minor Man (with Danielle Dax) | Heptaparaparshinokh