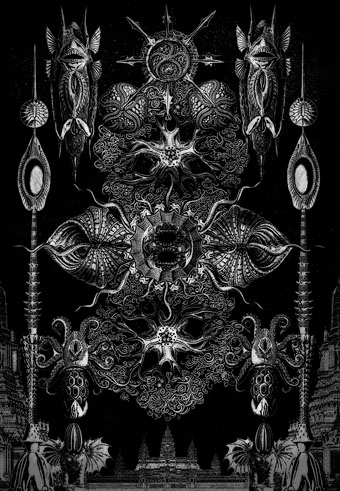 It's less of a surprise than it may seem to go searching for the source of a quote only to find yourself immediately faced with one of your own artworks. The posts here go back almost 15 years, and when so many of them cover niche interests any attempt to further explore a particular niche can circle back to something I've already posted. The latest example is an unusual one, however. The picture above is the Haeckel collage I created for the Starry Wisdom collection of Lovecraftian fiction in 1994, a piece that was later digitally refashioned for The Haunter of the Dark book. The quote I was pursuing is as follows:
"Inside the infernal box are impossible spaces, dark screens and mirrors, terrible traces of light, calcified thought forms and endless idiot mutterings. The switch is thrown and the magnetic coils begin to generate their obscene flickering images. This contraption might have been conceived by the Old Ones long before it was assembled by human hands."
—The Infinity Box, Alan Causley & MB Devot
The description appears together with a dialogue extract from Nigel Kneale's The Stone Tape on the fourth Ghost Box release, Ouroborindra (2005) by Eric Zann, a one-off album of spooky sample soundscapes created by a pseudonymous Jim Jupp in between his Belbury Poly albums. All the Ghost Box releases feature significant quotes, most of which are genuine extracts from stories, novels, non-fiction works, etc. The description of the Infinity Box raised my suspicion about its authenticity when the only references to either it or Causley and Devot are in listings for the Eric Zann album. My Yuggoth collage appears on this page which further compounds the confusion by making it seem that my art is somehow connected to Causley and Devot and their mysterious box. This isn't a complaint but it doesn't help clarify the situation. Alan Causley has no credits anywhere outside the quote but there is another Causley, the celebrated poet, Charles, whose poems are sampled on later Ghost Box releases by The Focus Group, aka Ghost Box co-founder Julian House. Scrutiny of the other Ghost Box albums reminded me that quotes from MB Devot's writings appear elsewhere on the early releases but I hadn't bothered to look up the name until now.
It's often the case with posts such as this that mild curiosity turns into deeper intrigue. The web of connections becomes more tangled on the first Ghost Box release, Sketches And Spells by The Focus Group, which has a Devot quote from a text with the apt title The Tangled Beams, and a final track with the title Starry Wisdom. Devot is described by reviewers as either a fictional writer or an authentic scholar, the latter designation being supported by a Wikipedia page. Wikipedia may be prone to errors but it isn't known for fake entries so this was a surprising discovery; Devot is also referenced on the page for parapsychologist TC Lethbridge who happens to be another source of Ghost Box quotes. Suspicion returns when you try to search for any of Devot's listed publications, none of which turn up in WorldCat or similar catalogues. One of the Wikipedia print sources is an issue of Fortean Times from 1989 but there's nothing about Devot listed in the contents of that issue. Issue 53 was a crop circle special, however, so it certainly fits the Ghost Box interest in the paranormal as it manifests in the British countryside. We now know that crop circles were man-made, not the product of flying saucers or other phenomena, so this may be fitting as well.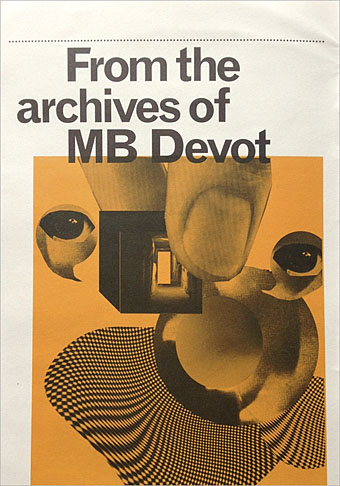 I would have left the search there but I did find one further Devot connection that I might otherwise have missed. Folklore and Mathematics is the title of a one-off Ghost Box periodical published in 2007 for people subscribed to the label's mail order service. It's a typically fine Julian House artefact that complements the Sketches And Spells album in both its title and its graphics. Inside we find "From the archives of MB Devot", and discover another reference to the Infinity Box. Apparently the black-and-white graphics that cover all the early Ghost Box discs are vibration patterns—"verberations"—created by Devot's occult apparatus.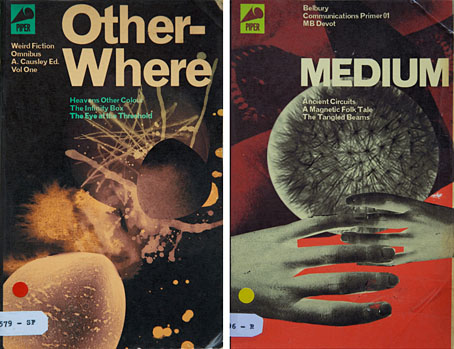 I wrote above that "any attempt to further explore a particular niche can circle back to something I've already posted" so I wasn't too surprised to have all these explorations finding their way back here. In 2009 Julian House exhibited three invented books as part of The New Spirit Happening, an exhibition of Ghost Box-related work at the Architect's Gallery in Teddington. I posted two of the covers after the exhibition but couldn't recall who the books were credited to. The authors are—inevitably—"A. Causley" and "MB Devot", and the volumes feature by-now familiar phrases: "The Tangled Beams", "The Infinity Box". Also more Lovecraftian verberations: "Heavens Other Colour", "The Eye at the Threshold". So Causley and Devot have been lurking here for the past decade, in which case having my artwork attached to their names no longer seems like an arbitrary association. "Inside the infernal box are impossible spaces, dark screens and mirrors…". Indeed there are.
Previously on { feuilleton }
• Unearthly tones
• Owls and flowers
• The White People by Arthur Machen
• Stone Tapes and Quatermasses
• The Ghost Box Study Series
• A playlist for Halloween: Hauntology
• Forbidden volumes
• The Séance at Hobs Lane
• Ghost Box