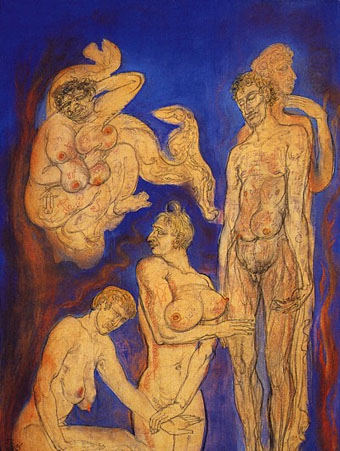 Efflaration (1952) by Austin Osman Spare.
The Austin Spare revival continues with another exhibition, Murmur Become Ceaseless and Myriad at Flat Time House, London, curated by Mark Titchner. Unless I've missed something this is a significant moment since it's the first time Spare's work has been paired with that of a more contemporary artist, the late John Latham (1921–2006) whose former home provides the exhibition space.
Biographically, the artists have a lot in common: a reticence to engage with the art establishment or the commercial art market; superficial correspondences with the work of their contemporaries but isolation by force of their ideas. The artistic genius of both these artists was, in the main, recognised by their peers, even if the subject of their work was not entirely understood.

In spite of this, discussion of Spare's practice has largely related to arcana and magic, despite his training in fine art and early mainstream successes. Conversely, Latham's work has been understood primarily in relation to the conceptual art practices of the 1960s and 70s. This exhibition broadens these perspectives, presenting their work in the context of two parallel experimental practices. (more)
There's also a somewhat tenuous connection between the pair in the figure of Alan Moore, a Spare enthusiast who in 1992 appeared with John Latham and a number of other literary and artistic types in The Cardinal and the Corpse, a TV film by Iain Sinclair and Chris Petit which really ought to be on YouTube but isn't. It's worth a watch if you can find a copy. Murmur Become Ceaseless and Myriad runs until 30th October.
Previously on { feuilleton }
• Kenneth Grant, 1924–2011
• New Austin Spare grimoires
• Austin Spare absinthe
• Austin Spare's Behind the Veil
• Austin Osman Spare