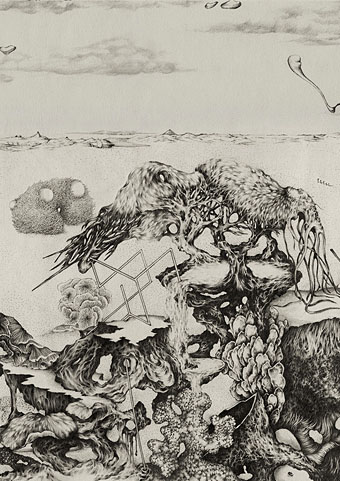 At the mountains of madness, fragment I (2014–16) by Céli Lee.
• Spirits of Place, edited by John Reppion: new writings from Bryndís Björgvinsdóttir, Vajra Chandrasekera, Maria J. Pérez Cuervo, Warren Ellis, Alan Moore, Silvia Moreno-Garcia, Kristine Ong Muslim, Dr. Joanne Parker, Mark Pesce, Iain Sinclair, Gazelle Amber Valentine and Damien Williams.
• "Are we wrong to neglect [Jean Cocteau]? We are." Kevin Jackson reviews Jean Cocteau: A Life, a biography by Claude Arnaud that's finally available in an English edition (translated by Lauren Elkin & Charlotte Mandell). Related: Jean Cocteau speaks to the year 2000.
• Void Beats / Invocation Trex by Cavern of Anti-Matter has been one of my favourite music releases this year. Tim Gane talks about the inadvertent origin of the group, and there's also the welcome news of a reissue for the scarce first album, Blood Drums.
• Pauline Oliveros: 1932–2016; Geeta Dayal looks back on the life of US composer Pauline Oliveros, including reflections from, amongst others, Betsey Biggs, Fred Frith, Terry Riley, and Morton Subotnick.
• The relaunched Jayde Design website is selling copious Moorcock publications and ephemera, back issues of New Worlds magazine, and much else besides, including rare works of my own.
• New from Mute Records: Richard H. Kirk #7489 (Collected Works 1974–1989) and Sandoz #9294 (Collected Works 1992–1994).
• Drawings by Austin Osman Spare are on display for the next two weeks at the Atlantis Bookshop, London.
• The Architecture of the Overlap: Sir John Soane's Museum, London, scanned in three dimensions.
• Mixes of the week: Secret Thirteen Mix 201 by Félicia Atkinson, and FACT mix 579 by Jenny Hval.
• "No one has the slightest idea what is and isn't cultural appropriation," says Fredrik deBoer.
• I'm never keen on end-of-year lists but I'll read any list that John Waters writes.
• "The Driller Killer and the humanist behind the blood and sickening crunch".
• More Lovecraft: Stories to make you say UGH! by Pete Von Sholly.
• Alan Moore talks to Stewart Lee.
• At The Mountains Of Madness (1968) by H.P. Lovecraft | Mountains Falling (2001) by Bluebob | Mountains Crave (2012) by Anna von Hausswolff