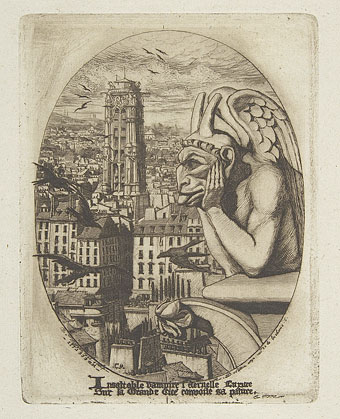 Le Stryge (The Vampire) (1853) by Charles Méryon.
• Notre-Dame-de-Paris in art and photography. Related: Chris Knapp on the Notre-Dame fire, and John Boardley on the print shops that used to cluster around the cathedral. Tangentially related: Mapping Gothic France.
• The Bodies Beneath: The Flipside of British Film & Television by William Fowler and Vic Pratt will be published next month by Strange Attractor. With a foreword by Nicolas Winding Refn.
• "In his new biweekly column, Pinakothek, Luc Sante excavates and examines miscellaneous visual strata of the past."
I also gathered underland stories, from Aeneas's descent into Hades, through the sunken necropolises of Italo Calvino's Invisible Cities and the Wind Cave cosmogony of the Dakota Sioux, to accounts of the many cavers, cave-divers and free-divers who have died seeking what Cormac McCarthy calls "the awful darkness inside the world"—often unable to communicate to themselves, let alone others, what metaphysical gravity drew them down to death. Why go low? Obsession, incomprehension, compulsion and revelation were among the recurrent echoes of these stories—and they became part of my underland experiences, too.

Robert Macfarlane on underworlds real and imagined, past, present and future
• Mixes of the week: FACT Mix 703 by Mary Lattimore, and The Colour Of Spring by cafekaput.
• A witty appraisal by Anna Aslanyan of a lipogrammatic classic and its smart translation.
• "Unseen Kafka works may soon be revealed after Kafkaesque trial."
• "Why do cats love bookstores?" asks Jason Diamond.
• Sunn O))) pick their Bandcamp favourites.
• Cathedral In Flames (1984) by Coil | The Cathedral of Tears (1995) by Robert Fripp | Cathedral Et Chartres (2005) by Jack Rose