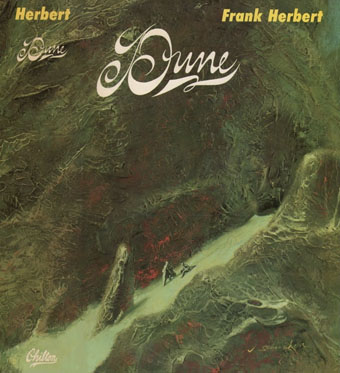 Spine and cover art by John Schoenherr for the first American edition of Dune, 1965.
• "[Herbert] had also taken peyote and read Jung. In 1960, a sailing buddy introduced him to the Zen thinker Alan Watts, who was living on a houseboat in Sausalito. Long conversations with Watts, the main conduit by which Zen was permeating the west-coast counterculture, helped turn Herbert's pacy adventure story into an exploration of temporality, the limits of personal identity and the mind's relationship to the body." Hari Kunzru on Frank Herbert and Dune, 50 years on. Related: "To save California, read Dune," says Andrew Leonard. There's a lot more Dune cover art at ISFDB.
• "Embedded in Adam's footage were several dark forms, human-ish in outline, unidentifiable but unmistakable, visible within the leaves or the shadows." Holloway is a short film by Adam Scovell based on the book by Robert Macfarlane, Dan Richards and Stanley Donwood.
• The Library of the Lost: In Search of Forgotten Authors by Roger Dobson; edited and with an introduction by Mark Valentine. Roger and Mark were my first publishers in 1988 when their Caermaen Books imprint produced the large-format edition of The Haunter of the Dark.
• "…over the years he created a series of 'Pharmacies': rows of glass bottles filled not with medicines to cure the body…but objects to stimulate the mind." Clare Walters reviews Joseph Cornell: Wanderlust, an exhibition at the Royal Academy, London.
• "The sound machines we build today are invariably one-offs, made from salvaged parts, with all the precariousness of a prototype." Sarah Angliss on the art of making music machines.
• Mission Desire is a new single by Jane Weaver whose video is "set to scenes from Marie Mathématique – the French 1960s mini-series about Barbarella's younger sister".
• Ghost signs, ginnels and hidden details: an alternative guide to Manchester by Hayley Flynn aka Skyliner.
• "I want to be despised," says John Waters who has a new art exhibition at Sprüth Magers, London.
• Sonic Praise, an album of "Krautprogbikermetal" by Ecstatic Vision.
• The Evolution of the Great Gay Novel: an overview by Rebecca Brill.
• At Bibliothèque Gay: more homoerotic drawings by Jean Cocteau.
• Wyrd Daze Lvl2 Issue 3 is a free download.
• Nicolas Winding Refn: vinyl collector.
• Caladan (2011) by Roly Porter | Giedi Prime (2011) by Roly Porter | Arrakis (2011) by Roly Porter