Until the end of his life, [Magritte] preferred to take the tram.
Now there's an attitude I approve of. George Melly in his BBC film about Surrealism mentions visiting Magritte at his home in Brussels, and we see Magritte's house at the beginning of Adrian Maben's 50-minute film about the artist's life and work. Maben's film was made in 1978 as an Franco-German TV production but the narration, by Maben himself, is in English. Surrealism seemed to be back in vogue in 1978: as mentioned yesterday, the Hayward Gallery in London staged an exhibition of Surrealist art that year, the BBC commissioned George Melly's film as a result of this, while over on rival network ITV there was the marvellous documentary about Surrealist patron Edward James who modelled for one of Magritte's most famous paintings, La reproduction interdite (1937).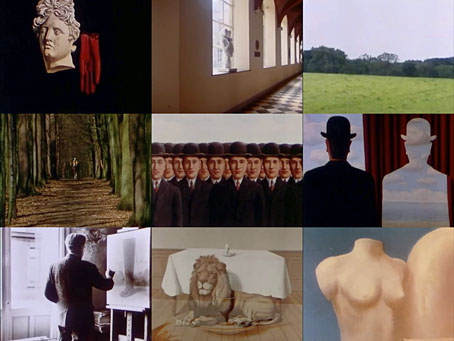 Adrian Maben's name will be familiar to Pink Floyd obsessives as the director of Pink Floyd: Live at Pompeii (1972), and if you're familiar with that film you can recognise the same shooting style in his Magritte film which deploys similar slow zooms, tracking shots and images sliding in and out of the frame. The music is credited to a surprising combination of Béla Bartók (mostly piano) and Roger Waters, although some of the pieces from the latter are actually by Pink Floyd, there's even some of the opening of Obscured By Clouds. In style and content the film is as good as anything the BBC were producing at the time, with extracts from a TV interview with the artist, and also some of Magritte's high-spirited home movies made with his wife and friends.
Magritte and Pink Floyd are a fitting match, some of the Floyd's album covers could be Magritte paintings rendered photographically: two men shaking hands, one of whom is on fire; a giant pig adrift over a power station. Storm Thorgerson always acknowledged the debt that Hipgnosis owed Magritte's example, it's there in the title of the first Hipgnosis book, Walk Away René, and in this short Tate interview from 2011 where he mentions the Wish You Were Here album as being a very conscious Magritte homage.
Previously on { feuilleton }
• George Melly's Memoirs of a Self-Confessed Surrealist
• The Secret Life of Edward James
• René Magritte by David Wheatley