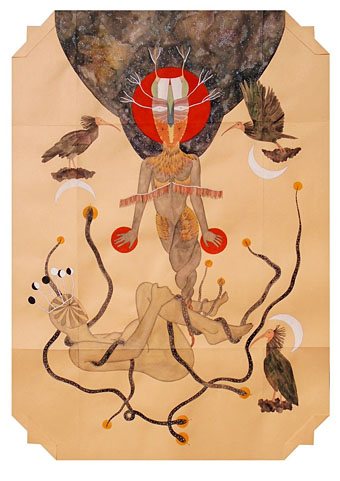 Lilith Births the Djinn (2015) by Rithika Merchant. Via Phantasmaphile.
• Lord of Strange Deaths: The Fiendish World of Sax Rohmer, edited by Phil Baker & Antony Clayton, is a new publication from Strange Attractor. "This is the first extended attempt to do justice to Rohmer, and it ranges across the spectrum of his output from music-hall writing to Theosophy. Contributors focus on subjects including Egyptology, 1890s decadence, Edwardian super-villains, graphic novels, cinema, the French Situationists, Chinese dragon ladies, and the Arabian Nights. The result is a testimony to the enduring fascination and relevance of Rohmer's absurd, sinister and immensely atmospheric world."
• More weird fiction: Twisted Tales of the Weird promises "an evening of readings by some of the finest writers in the contemporary scene, a panel discussion about the mode, and a Q&A with the audience" at the John Rylands Library, Manchester, on 23rd October. Writers M. John Harrison, Helen Marshall and Timothy J. Jarvis will be reading from their works. The event is free but space is limited so tickets are required.
• More Lovecraft: "Lovecraft never said his entities were evil," says Alan Moore discussing his new Lovecraftian comic series, Providence, with Hannah Means Shannon. At the University of Sterling, Chloe Buckley reviews the Ellen Datlow-edited anthology Lovecraft's Monsters for The Gothic Imagination (with passing reference to my illustrations but no credit for the artist).
• One for completists or those who were there on the night: Earth playing There Is A Serpent Coming at the Columbus Theatre, Providence on 22nd August. I'd almost given up hope that someone might have recorded anything from this event so thanks to Mr Beast Rebel of the Hellscape for the upload. There's also a song by Elder from earlier in the evening.
• A Rose Veiled in Black: Art and Arcana of Our Lady Babalon edited by Robert Fitzgerald and Daniel A. Schulke.
• Robin the Fog on Spectral Spools, Amplified Olympia and XPylons.
• Mix of the week: BerlinSchool Mix-A [Beginnings] by Headnoaks.
• At AnOther: Leonor Fini: Female Libertine
• The lost tunnels of Liverpool
• Some Weird Sin (1977) by Iggy Pop | It's So Weird (1983) by Bush Tetras | The Smallest Weird Number (2002) by Boards of Canada