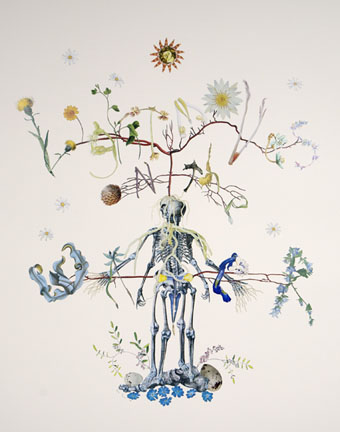 Light Moves on the Water (2010), a collage by Alexis Anne Mackenzie.
"[She] stated, emphatically and more than once, that pornography cannot and should not be linked to LGBT rights…When a gay man lives somewhere where his identity is threatened, it's clear how sex – including pornography – and sexuality are intertwined. His sexual imagination, which is criminalized, matches the sexual images of gay pornography (which are also criminalized). Since acting out his imagination through sex would be to risk his life, the access to the images is safer. The images, created by gay men wherever it's legal to create them, provide empowerment and diminish alienation." An important piece by Conner Habib who asks "Why are we afraid to talk about gay porn?"
• Florida's Parallel Universe: "The abandoned Nike Missile Site, surrounded by the Everglades, is a reminder of when humans almost destroyed the world and a warning that we could still lose everything today." By Stefany Anne Golberg.
• In Search of Divine: A Retrospective by Katherine McLaughlin. Related: Jeffrey Schwarz, director of a new documentary, I Am Divine, talks about Divine's career, and his film to Polari Magazine.
When Brendan Behan's Borstal Boy was banned in 1958, it was said that a man in a pub asked him how much the book weighed, then offered to bring two thousand copies across the border instead of his usual smuggled butter. We might have called it the Black North, for being dark with Protestants, but when I was a child in the 1960s, Ulster was the place British sweets came from: Spangles, Buttons and, most notably, Opal Fruits. It was across this border that the feminists of "the condom train" staged a mass importation of illegal contraceptives in May 1971. When they arrived from Belfast into Connolly Station, the customs men "were mortified", Mary Kenny, one of the participants, remembered, "and quickly conceded they could not arrest all of us, and let us through".

Anne Enright on censorship in Ireland.
• Open Culture posts a copy of Nigel Finch's 1988 Arena documentary about Robert Mapplethorpe.
• The Fall of Communism Through Gay Pornography: A video by William E. Jones.
• Surrealism Made Fresh: Sanford Schwartz on the drawings of the Surrealists.
• Cult Classic: Defining Katherine Mansfield by Kirsten O'Regan.
• Jonathan Barnbrook (again!) on David Bowie (again!).
• Sydney Stanley illustrates Algernon Blackwood
• 20 Haunting Ghost Towns of the World
• At Pinterest: The Male Form
• The Life Divine (1973) by Santana and McLaughlin | The Rhythm Divine (1987) by Yello feat. Shirley Bassey | Divine (2000) by Antony and the Johnsons