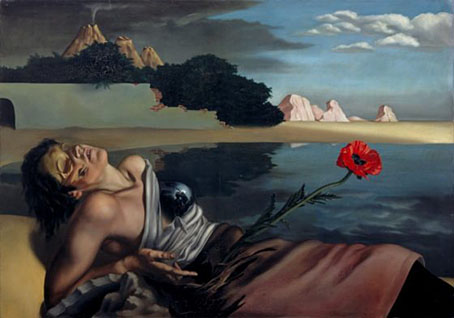 Self-Portrait (1935) by Johannes Hendrikus Moesman.
• At Bibliothèque Gay, René Bolliger (1911—1971), an artist whose homoerotica is being celebrated in an exhibition, Les Beaux Mâles, at Galerie Au Bonheur du Jour, Paris, next month. There are more beaux mâles in a new book of photographs, Hi, Hello!, by Roman Duquesne.
• The summer solstice is here which means it's time for Dennis Cooper's favourite fiction, poetry, non-fiction, film, art and internet of the year so far. As before, I'm flattered to be listed in the internet selection. Thanks! Also at DC's, Michael Snow Day.
• "I hope Roger Corman is doing okay," I was thinking last week while rewatching one of Corman's Poe films. He's been overseeing the production of three new features during the lockdown so, yes, he's doing okay. I loved the Cries and Whispers anecdote.
• "Unsettling and insinuating, fabulously alert to the spaces between things, Harrison is without peer as a chronicler of the fraught, unsteady state we're in." Olivia Laing reviewing The Sunken Land Begins to Rise Again by M. John Harrison.
• The original Brain label release of Aqua (1974), the first solo album by Tangerine Dream's Edgar Froese, had a different track list and different mixes from the Virgin releases. The album has never been reissued in this form.
• New music at Bandcamp: Without Thought, music for an installation by Paul Schütze; and Hatching Under The Stars, songs by Clara Engel.
• Deborah Nicholls-Lee on Johannes Hendrikus Moesman (1909–1988), "the erotic Dutch surrealist you should have heard of".
• Kate Solomon on where to start with the Pet Shop Boys. I'd also recommend Introspective.
• Dalí in Holographic Space: Selwyn Lissack on Salvador Dalí's contributions to art holograms.
• At Spoon & Tamago: An obsession with retro Japanese round-cornered windows.
• John Boardley on the "writing mistresses" of the calligraphic golden age.
• Mark Duguid recommends Michael Reeves' Witchfinder General (1968).
• The favourite music of Crammed Discs boss, Marc Hollander.
• Occult/erotic prints by Eleni Avraam.
• Aqua: Every Raindrop Longs For The Sea (Jeder Tropfen Träumt Vom Meer) H2O (1973) by Achim Reichel | Aqua (1979) by Dvwb | Aqua (1981) by Phew