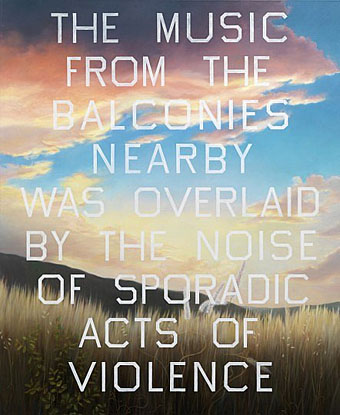 The Music from the Balconies (1984) by Edward Ruscha.
• At The Quietus: High-Rise director Ben Wheatley runs through his favourite films. Kudos for mentioning Elem Klimov's Come and See (1985) among the more familiar fare, a nightmarish masterwork that everyone should watch at least once. On the same site, author Joe R. Lansdale also lists some favourite films while discussing the new TV series of his Hap and Leonard books.
• Electric Hintermass (Sound Apart) by Hintermass, a track from The Apple Tree, their debut album on the Ghost Box label.
• Michael Mann's Heat: "A complex, stylistically supreme candidate for one of the most impressive films of the Nineties".
• Despair Fatigue: David Graeber on how [political] hopelessness grew boring, and what happens next.
• Mix of the week: FACT Mix 541 by Tortoise, and Blowing Up The Workshop 56 by Eric Lanham.
• At Dennis Cooper's: "Some books (1961–1975) that either faked ingesting LSD or did".
• David Litvinoff again: "Was he only an opportunistic hustler?" asks David Collard.
• John Carpenter's The Thing rescored with one of the director's Lost Themes.
• Overlooked: a book by Marina Willer about the manhole covers of London.
• Pam Grossman (words) and Tin Can Forest (art) ask What is a Witch?
• A long way down: Oliver Wainwright on JG Ballard and High-Rise.
• A conversation with designer and typographer Erik Spiekermann.
• The BFI compiles a list of "The 30 Best LGBT Films of All Time".
• Decoding the spiritual symbolism of artist Hilma af Klint.
• Heat (1983) by Soft Cell | The Heat (1985) by Peter Gabriel | Heat Miser (1994) by Massive Attack