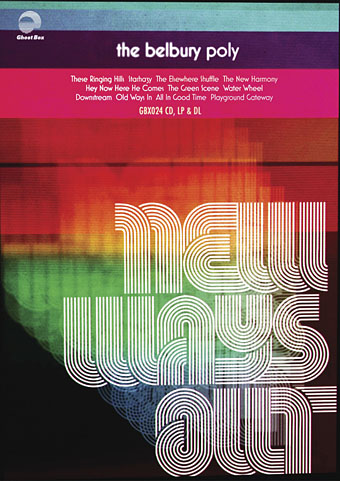 Design by Julian House.
• The last major release by Ghost Box recording artists Belbury Poly was The Belbury Tales in 2012, so news of a new album is most welcome. New Ways Out by The Belbury Poly (that definite article is a fresh addition) will be released next month. The Belbury Parish Magazine has links to larger copies of Julian House's artwork for this and the recent release from Hintermass, The Apple Tree.
But before New Ways Out appears there's a compilation album from A Year In The Country released at the end of April. The Quietened Village is "a study of and reflection on the lost, disappeared and once were homes and hamlets that have wandered off the maps or that have become shells of their former lives and times. Audiological contents created by Howlround, Time Attendant, The Straw Bear Band, Polypores, The Soulless Party, The Rowan Amber Mill, Cosmic Neighbourhood, A Year In The Country, Sproatly Smith, David Colohan and Richard Moult." I've been fortunate to hear an advance copy, and it's an excellent collection.
• "London's architecture has become laughably boorish, confidently uncouth and flashily arid," says Jonathan Meades in a review of Slow Burn City: London in the Twenty-First Century by Rowan Moore.
I feel very ill, physically and mentally ill when I hear Christmas carols. I feel so angry, so much like getting out a sniper's rifle when I hear that kind of music. And Broadway shows with their sentimental songs, those kinds of things are terrifying for me because they call up memories from far back and I don't necessarily know what they are but they just break me, they break my heart, they break my soul. Iannis Xenakis, the great Greek composer, he said the same thing. He couldn't listen to the music his mother had played to him when he was young, because it was akin to thinking of someone who was disemboweled. And so for me, if I do a song that's what you'd say is pretty, my interpretation takes it to another place because it shows the death of the virgin, the animal that goes out in the spring and then gets shot by a hunter. It is prettiness that is very alarming to me, so I tend to do a juxtaposition of something that might be pretty with something that is harsh, just because I feel that they occur in life together.

Diamanda Galás talking to Louise Brown about her work
• The Fantastical Otherworlds of Adam Burke: S. Elizabeth talks to the artist behind Nightjar Illustration.
• "I try to frighten myself": Master musician and curator David Toop on his extraordinary cassette tape archives.
• Silver Machine: Hawkwind's Space Rock Journey throughout Science Fiction and Fantasy by Jason Heller.
• Mixes of the week: Secret Thirteen Mix 179 by Mesmeon, and a new Italian Occult Psychedelia Festival Mix.
• Offset Identities: Kenneth FitzGerald on graphic designer Barney Bubbles.
• The Cine-Tourist lists some of the many cats in the films of Chris Marker.
• John Patterson on Ran (1985), Akira Kurosawa's last great masterpiece.
• Britain's scarecrows photographed by Colin Garratt.
• Strange Flowers explores the city of Turin.
• The Museum of Talking Boards
• Silver Machine (1972) by Hawkwind | Silver Machine (1973) by James Last | Silver Machine (1988) by Alien Sex Fiend