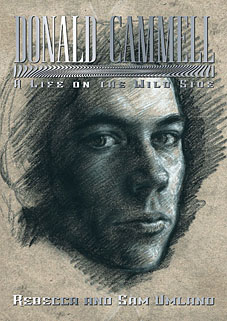 As mentioned earlier, I designed the jacket for this excellent biography of Donald Cammell some time ago. The book is reviewed in today's (London) Times by Barry Miles.
Quite a performance
review by Barry Miles
DONALD CAMMELL: A Life on the Wild Side
by Rebecca and Sam Umland
FAB Press, £24.95 hardback, £16.95 paperback; 304pp
THERE IS A PERSISTENT rumour that after shooting himself in the head the filmmaker Donald Cammell lived on in a delirious, euphoric state for 45 minutes. The story is that he asked his wife China to place a mirror so that he could watch himself die and said: "Do you see the picture of Borges"? This is a reference to the death scene in Performance, his best known film, when the gangster Chas (played by James Fox) shoots the rock star Turner (played by Mick Jagger).
In a profoundly shocking sequence, the camera follows the bullet into his brain, only to find there a photograph of the Argentine author Jorge Luis Borges who is much quoted in the film. This is but one of the many myths surrounding Cammell that these authors debunk — he died the instant the .38 bullet entered his skull.
Performance, filmed in 1968 but not released until 1970, is his masterpiece: the original sex, drugs and rock 'n' roll movie.
He wrote the screenplay and co-directed with Nicolas Roeg, who was brought in to look after the cinematography, leaving Cammell free to deal with the actors and the partly improvised storyline. It has become a cult classic, the subject of two books, scores of essays, a poster magazine and a novelisation. Many now regard it as the greatest British film yet made.
Another myth claimed Cammell as the notorious Satanist Aleister Crowley's godson. He was not, but Crowley was a family friend and did bounce the young Cammell on his knee. Cammell, born in 1934, was a member of the shipbuilding family. His father was editor of The Connoisseur and Donald was raised in an atmosphere of bourgeois bohemianism. He was sent, at the age of 8 to the Catholic Abbey School at Fort Augustus, where his "hysterical reaction" was so extreme that his parents had to withdraw him after two terms. The authors argue convincingly that Cammell's later self-destructive behaviour was shaped by sexual abuse at school.
He attended art college, then studied with the painter Pietro Annigoni. As the authors put it: "It goes without saying that he was attractive, talented, charming and charismatic."
He developed a clientele among the Chelsea set and gained a reputation as a ladies' man, seducing many of his sitters, disrupting marriages and having affairs with well-known actresses. In 1954 he renounced portraiture and enrolled in the Royal Academy School.
Such abrupt life-changes became a feature of his life. They were often caused by days of bleak depression—the family had a history of manic depression—when he brooded about suicide and death. Almost always they were ill-advised and self- destructive, particularly during his career as a film-maker. He sabotaged so many projects that he completed only four films in his life.
While at the RA he married the Greek actress Maria Andipa, but as his favourite sexual relationship was a ménage à trois with a few male friends, it was a rocky ride, and ended in October 1959 when Maria had a baby.
Emotionally immature, he could not handle the responsibility, walked out the day after she came home from hospital and rejected all efforts by his son to see him.
His unorthodox views on sexuality and heavy drug use marked him as a precursor of the hippie movement. His friend David Litvinoff said that "by 1960 Donald had tried every drug and every known combination of drugs known to man".
From 1960–67 he lived in Paris with the model Deborah Roberts. He became one of the beautiful people, flitting from Paris to London and Rome in his sports car, but the black moods and talk of suicide were ever present, like the underlying menace throughout Performance.
Cammell drifted into film-making, first as an actor, then a screenwriter. Performance was the first film he directed. It has a multitude of influences, from Joseph Losey's 1963 film The Servant, which made James Fox a star, to John Boorman's Point Blank, which he insisted that the whole cast and crew see. He claimed the film-maker Kenneth Anger as "the major influence at the time I made Performance", much of which is "directly attributable to him".
The final edit was based to an extent on the random cutting-up in Antony Balch and William Burroughs's 1962 film The Cut Ups. Although credited entirely to Cammell, Performance's screenplay was written on the beach at St Tropez by Cammell, Roberts and Anita Pallenberg. (At one point, a gust of wind blew the whole script into the sea and Anita had to iron each page to dry it out.) Collaboration was a strong part of the Sixties ethos and was Cammell's favoured method of working; it was a way of avoiding his self-destructive tendency to sabotage whatever he was doing.
Even so he managed to delay the film for a year by being obdurate with Warner Brothers about editing: they wanted another Hard Day's Night, with Jagger appearing early on. In Cammell's version, he did not appear for an hour. The solution was to create Cammell's signature style: Performance became a montage of rapid intercuts and flashbacks, a kaleidoscope of images, the precursor of today' s rock videos.
Cammell was invited to Hollywood but nothing he did later could match the artistic and critical success of Performance and, still gripped by black depressions, he killed himself in 1996 at the age of 62.
A heavily illustrated labour of love, this book is in great need of an editor, but it goes a long way towards explaining Cammell's tortured genius.