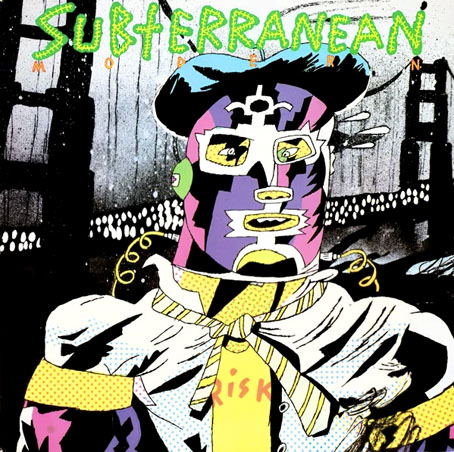 Subterranean Modern (1979). Sleeve art by Gary Panter.
As often happens, one post leads to another and the next thing you know there's a themed week happening, so here's something more about Tuxedomoon. Subterranean Modern was a compilation album released by The Residents on their Ralph Records label in 1979. The idea was to showcase The Residents along with three other groups from contemporary San Francisco, all of whom were underground acts, hence the "subterranean" title. (Just to confuse matters, Subterranean was also a San Francisco record label.) Three of those groups—Chrome, Tuxedomoon, The Residents themselves—have since developed cult followings; hard-rock outfit MX-80 Sound seem a little ordinary and out-of-place in this unique company but such is the nature of the compilation album. The Residents wanted each group to provide an interpretation of I Left My Heart In San Francisco but none of the others were very interested; Chrome's offering, which lasts all of 27 seconds, is hilariously contemptuous of the idea, a squall of riff and vocals that fades in then quickly fades away. Cartoonist Gary Panter illustrated the cover which is also given the Rozz Tox seal of approval. For more about Rozz Tox, whose enigmatic presence can be found on other Ralph Records releases, see this.
I'd already heard Chrome and The Residents when I bought Subterranean Modern but this was first place I encountered Tuxedomoon's music. Chrome, who appear on the back cover wearing their Clockwork Orange droog outfits, contribute two tracks that are as good as anything on their early records, Anti-Fade and the chugging Meet You In The Subway, for which they made a video filmed on the city's BART platforms. I listened to those tracks, and the Tuxedomoon ones, much more than the rest of the album. With the exception of the pieces by MX-80 Sound, everything on the album has since been reissued on other compilations (Tuxedomoon's tracks are on the Pinheads On The Move collection).
The following is a two-page feature from the NME for 17th November, 1979, profiling the album and the people who made the music. I don't know whether this was Tuxedomoon's first UK interview but it says it's the first interview given by Chrome which gives it some vague contemporary relevance. Helios Creed recently re-formed Chrome, and played a show in London earlier this month. There's also a new Chrome album, although for me Chrome proper requires Damon Edge, and he died in 1995. (Thanks to Gav for saving the pages!)
* * *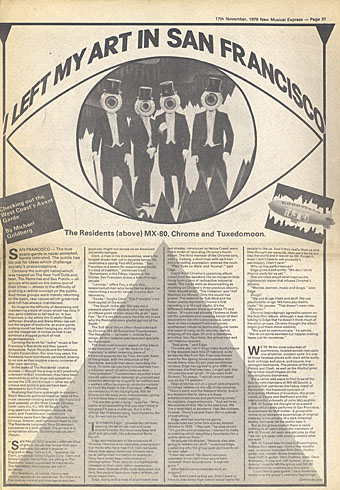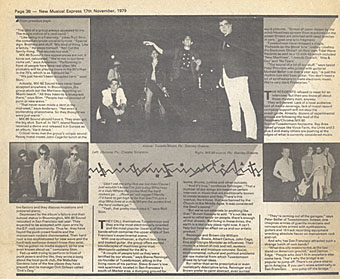 I LEFT MY ART IN SAN FRANCISCO
Checking out the West Coast's Avant Garde by Michael Goldberg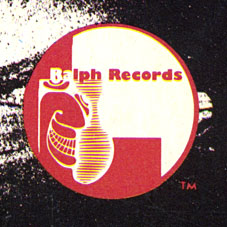 SAN FRANCISCO—The true avant-garde is never accepted, barely tolerated. The public has no use for ideas which challenge society's preconceptions.
Certainly the outright hatred which was heaped on The New York Dolls and, later, The Ramones and Sex Pistols—all groups who spat on the status quo of their times—attests to the difficulty of pushing a radical concept on the public. And those groups were merely returning to the basic, raw values which great rock and roll has always maintained.
So imagine the difficulty of developing and maintaining a style of music which has little, if any, solid tradition to fall back on. In San Francisco, a city where the Grateful Dead, Jefferson Starship and Steve Miller can sell out the largest of stadiums, an avant-garde underground has been hanging on, etching out the meagrest of niches so that it can continue a dogged pursuit of rock experimentation.
Carrying the torch for "outre" music is San Francisco's Residents and their parent companies, Ralph Records and the nebulous Cryptic Corporation. For nine long years, the Residents have relentlessly persisted, bowing to no one as they explore a sonic universe of their own devising.
In the wake of The Residents' relative success—though the group is still practically unknown in their hometown, they have been received by a rather large cult spread out across the U.S. and Europe—other equally unique and esoteric groups have been attracted to San Francisco.
Realising that there is strength in numbers, Ralph Records gathered together three of the most uncompromising bands in San Francisco (and possibly on the West Coast): Chrome (with roots in L.A.), MX-80 Sound (who migrated from Bloomington, Indiana, last year), and Tuxedomoon (whose core members came from Denver, Colorado and Chicago, Illinois), and convinced them to join The Residents (originally from Shreveport, Louisiana) in a joint project. The project is a compilation album, Subterranean Modern (Ralph).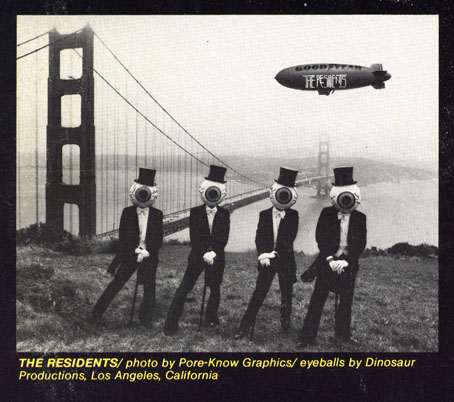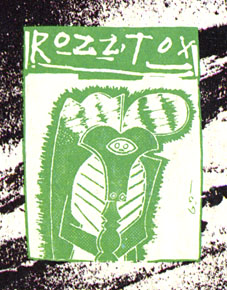 "SAN FRANCISCO breeds a different kind of group. Bands that follow their own instincts, not what's popular in England or New York or L.A.," explains Jay Clem, a member of the Cryptic Corp. Clem and fellow Cryptic, Hardy Fox, are sitting in The Residents' newly expanded 16-track studio. The Residents, themselves, are not in evidence.
The Residents, of course, have a near mythic reputation for weirdness. But Clem and Fox look as normal and average as any two guys you might run across on an American university campus.
Clem, a man in his mid-twenties, wears his longish brown hair cut in squared bangs. He resembles a young Paul McCartney. "San Francisco is a centre for experimental music. It's kind of tradition," continues Clem. "Bohemians in the Fifties, hippies in the Sixties. San Francisco draws a kind of fringe people."
"Loonies," offers Fox, a short, thin, bespectacled man who looks like he should he researching a cure for cancer in some dark laboratory.
"Kooks," laughs Clem. "San Francisco's the kook capital of the world."
"The South in the late '60s was not a pleasant place for anybody who had any kind of offbeat point of view about life at all," says Fox. "So it's not particularly hard for me to see why the Residents were glad to get out of the South."
The Sub Mod album offers three cuts each by Chrome, MX-80 Sound and Tuxedomoon. The Residents—as hosts—include four songs. All the material was recorded specially for the project.
The most controversial aspect of the album is the inclusion of I Left My Heart In San Francisco a rather sickening piece of hackwork popularized by Tony Bennett. None of the groups, with the exception of the Residents, were thrilled about recording the song. Chrome sarcastically included less than a minutes' worth of white noise as their "interpretation". Tuxedomoon recorded a one minute conversation between an unemployed transient attempting to qualify for welfare and a welfare office bureaucrat, while the melody to I Left My Heart In San Francisco is played on harmonica in the background. MX-80 Sound cut the song as on instrumental, giving it a full force heavy metal reading.
"It's not that great a song," says Fox, "Who wants to do something that you don't think is too great? It was a challenge. But it is the official San Francisco song. Sanctioned by the city. So we had no choice."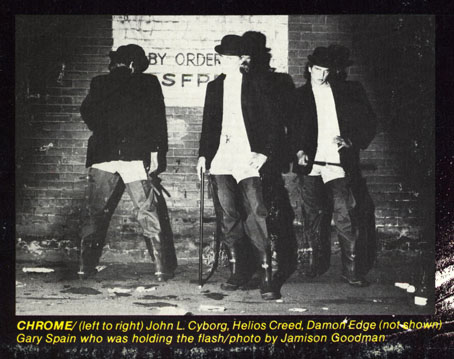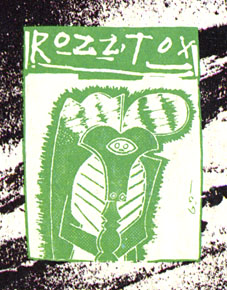 "I'M DAMON Edge," growled the tall man wearing the white lab coat and wrap-around shades. His voice was deep and gruff and ghoulish, like a demented Boris Karloff. Edge was testament to the existence of Chrome. Chrome is so resolutely underground that those who have heard of them seriously doubt their actual existence. Chrome have never performed live before an audience. They have never been interviewed or photographed. Their records are haphazardly released on their own, rather mysterious, Siren label. Outside of the most dedicated rock fans, few people have even heard of them, let alone heard them.
Edge, along with a man in a tan trench coat and shades, introduced as Helios Creed, were in the midst of recording Chrome's fourth album. The third member of the Chrome core, John L. Cyborg, a short man with dark hair and a brooding expression, entered the room.
"Play Eyes On Mars and Animal," said Edge.
Tracks from Chrome's upcoming album oozed from the speakers like an inorganic blob rising from a pool of radioactive industrial waste. The tracks were as disconcerting as anything on Chrome's three previous albums, Alien Soundtracks, The Visitation and Half Machine Lip Moves. Only the sound has grown. The material on Sub Mod and the newer pieces represent Chrome's first recording in a 16-track studio. It's the difference between black-and-white TV and colour. 16 tracks has allowed Chrome to flesh out the subtleties and creeping horror of their excavations into the subconscious. Layer on layer of disconnected/fractured voices, synthesized industrial debris and guitar notes that seem to hang on for eternity, before dripping off the tape. All over a relentless, primitive, four/four beat: the primal rock and roll rhythms retained.
"Real gone," said Edge.
The next day I sit in Edge's two storey house in the desolate back hills of Oakland, a city across the Bay from San Francisco known more for the ageing blues musicians who reside there, than for any post-synthesizer combos. Edge has agreed to give me an interview, the first interview, I might add, that Chrome has ever given. "If you were from Sounds," he snaps, "I would have impaled you on my TV antenna."
Edge stretches out on a couch and pinpoints Chromes' relation to the rest of the universe. "There's earth and the Western World. And in the Western World, there are those entertainment zones and performing zones." he explains, magnanimously. "And we're on the outside of that. We're the bad boys. We live a rebel kind of existence. Feel like outlaws. Outside. There's us and them. We're outside of everything."
Edge, who has worked on porno soundtracks and other film scores, formed Chrome in 1976. "I like rock," he says simply. "It's got the primal essence. I wanted to make something which would be a foundation for a unit to abstract from."
He adjusts his shades. "Nobody else was going to release our stuff," continues Edge, explaining why the group puts out records on its own label. "It was too weird. No record company president in his right mind would have released Alien Soundtracks. it was too gone."
Why has Chrome remained such an enigma?
"We didn't want to kiss ass. Didn't want to have to play some high school social scene for people to like us. And if they really liked us and they thought we were OK, then we'd be let out into the world and it would be OK. Forget it, man! I don't have to ask anybody's permission. I don't care!"
Why no live performances?
Edge gives a sick smile. "We don't think they're ready for us yet."
One wonders aloud what inspires the nightmarish vision that infuses Chrome's albums.
"Movies, women, music and drugs," says Edge.
Drugs?
"We use drugs. Hash and stuff. We use psychedelic drugs. We have psychedelic roots." He pauses. "That doesn't mean late '60s roots."
Chrome begrudgingly agreed to appear on the Sub Mod album, although it was obvious talking to Edge that he doesn't think much of the other groups. Chrome thought the album might give them more visibility.
"We want to communicate," he admits, "We're not some bombed out hippies making tapes just for ourselves."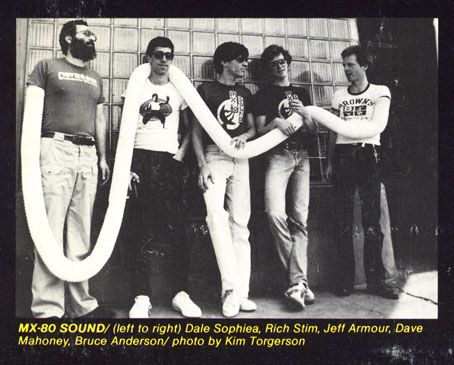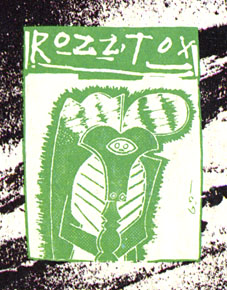 WE'RE IN the most suburban of apartments, located amidst row upon row of similar, modern units. It's one of those faceless places with stark white walls, built-in fridge and stove, and square, low-ceilinged bedrooms. The photos of the Sex Pistols and Clash, as well as the Warhol print, fail to have much impact on the claustrophobic blandness.
It is a rather odd place to find three of the four current members of MX-80 Sound, a group which combines the heavy metal of Aerosmith, the fractured cynicism of mid-sixties Mothers of Invention, the prose vocals of Zappa and Beefheart and the instrumental virtuosity of John McLaughlin.
MX-80 Sound are thought of as a weird group which rarely performs in San Francisco, or anywhere for that matter. A group who rehearse an awesome assemblage of original material in the privacy of a dark rehearsal studio, but never let the public hear it.
But as the group explain there is really nothing at all weird about the members of MX-80 Sound. All work straight jobs so that "we can get away with playing exactly what we want."
MX-80 Sound was formed in Bloomington, Indiana four years ago. Until a few months ago, personnel included Rich Stim, rhythm guitar, sax, vocals; Bruce Anderson, lead/rhythm guitar; Dale Sophiea, bass; Dave Mahoney, drums and Jeff Armour, drums. Armour recently left the group and MX-80 Sound plans to continue as a four piece.
"I just liked to play guitar," says Anderson explaining the group's ordinary beginnings.
"The idea of a group always appealed to me. The magic notion of a rock band."
"Like being in a fraternity," jokes Rich Stim, the comedian/prose vocalist/lyricist. "Special sign. Brothers and stuff. '60s kind of thing. Like a family." He stops himself. "No, cut the family thing. That sounds too sick."
MX-80 Sound's rare appearances are not, it turns out, calculated. "We're not in our time niche yet," says Anderson, "Performing in front of people here feels real alien. We probably will be playing more in the 80's than in the 70's, which is as it should be,"
"We just haven't been accepted here," says Stim.
Actually, MX-80 Sound have never been accepted anywhere. In Bloomington, the group stuck out like Martians deporting on Miami beach. "All they listen to is bluegrass there," says Stim. "People had no concept of punk or new wave."
"That never even made a dent in the mid-west," says Anderson.
"Not even a contending phenomena. So they thought we were just weird."
MX-80 Sound should have it. They even got the big shot. Sort of. In 1977, Island Records received a demo and released it in Europe as an album, Hard Attack.
Critical raves met the group's unique sound: Heavy metal meets John Cage for lunch at the tire factory and they discuss mutations and prepared piano.
Depressed by the album's failure and their outcast status in Bloomington, MX-80 Sound relocated in San Francisco last year. They expected to be accepted with open arms by the S.F. rock community. Thus far, they have found the punk crowd hostile and the mainstream rockers disinterested. Their hard rock is too sophisticated for new wave and the hard rock audience doesn't know they exist, "We've gotten no media support, so no one even knows about us," complains Stim.
Fed up with trying to perform in front of punk posers and the like, they wrote a song about the local punk club, the Mabuhay Gardens (one of the few places they have played) and its manager Dirk Dirksen called Dirk's Dog.
Don't ask me why / Are we not men / Cause I just wouldn't know / I'm just a dog / Who lives at a club / Where the punks / And the hard rockers go… / Rock an' roll nigger? / Hardly… / I'd have to get high to be that low / I'm just a dog / Who lives at a club / Where the punks / And the hard rockers go.
"Yeah, that pretty much says it," says Rich Stim.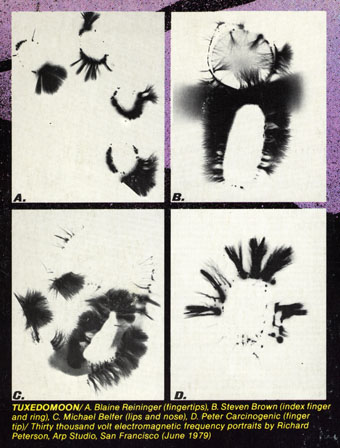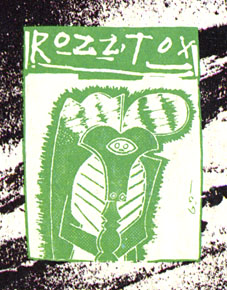 THEY CALL themselves Tuxedomoon and they are the most electronically oriented and the most popular (locally) of the four bands which comprise the upper strata of San Francisco's experimental scene.
With one synthesizer, a rhythm box, brass and treated guitar, the group offers surreal soundscapes or machines gone mad. Metropolis updated for the 80's.
"A couple of people told us they were terrified by our shows," says Blaine Reininger, co-founder of Tuxedomoon, sitting in the living room of his partner, Steve Brown's low-rent apartment, located in San Francisco's south-of-Market area, a dumping ground for bums, drunks, junkies and other outcasts.
"And it's true," continues Reininger, "That a number of our songs are based on certain intervals in music that are traditionally known to create tension and fear. There's this interval, the tritone, that was banned by the Church in the Middle Ages. It was considered the Devil's sound."
"But we're not satanists or anything like that," Brown hastens to add. "It's not like we want to inflict terror on people, there's enough of that already. But living in these times, the earth is a real crazy place right now. It can't help but have an effect on us and our artistic product."
Reininger and Brown cite William Burroughs, Bowie, Albert Camus, John Cage, Eno and Giorgio Moroder as influences. Their music is a blend of rock and roll, esoteric electronics and musique concrete. Social, environmental, cultural and political problems are raw material from which Tuxedomoon draws its lyrical ideas.
But rather than write prescriptive or even realistically descriptive lyrics, Reininger and Brown prefer to paint abstract even surreal word pictures. "Scraps of paper blown by the wind / Headlines scream from machines on the street / Streets are jammed with dead families in cars," goes one lyric fragment.
Tuxedomoon have released a single, Pinheads on the Move b/w Joeboy (Joeboy the Electronic Ghost) on their own Tidal Wave Records as well as a 12-inch 45 which included New Machines, Litebulb Overkill, Nite & Day and No Tears.
"The sound of a lot of our stuff," says bassist Peter Principle who joined with guitarist Michael Belfer just over a year ago," is just the rhythm box and bass guitar. You don't need a lot of synthesizers to make electronic music. We're very stark Proletarian."
THE RESIDENTS refused to meet for an interview. But then you know all about those mystery men, anyway.
They will persist. Lack of a local audience, lack of media coverage, lack of major record company support will not stop the avant-garde. Already, dozens of experimental groups are following the lead of the Residents / Chrome / MX-80 Sound / Tuxedomoon foursome. Bay Area based groups like Voice Farm, the Units and 2 plus 2 and many others are pushing at the edges of what is currently considered music.
"They're coming out of the garages," says Peter Belfer [sic] of Tuxedomoon. Indeed, one imagines armies of guerilla musicians and conceptualists armed with synthesizers, guitars and 16-track recording equipment wrecking absolute havoc on mainstream rock and roll.
And why has San Francisco attracted such a strange batch of rock bands?
"What this city means to me, is the last stand on American ground," said Damon Edge. "People who don't fit in anywhere else come here. That's why the bridge is so popular to jump off. There's no place else to go in America. If you can't relate artistically in San Francisco…you jump off the bridge." •
Previously on { feuilleton }
• Tuxedomoon on La Edad de Oro, 1983
• Tuxedomoon designs by Patrick Roques
• Pink Narcissus: James Bidgood and Tuxedomoon
• Chrome: Perfumed Metal