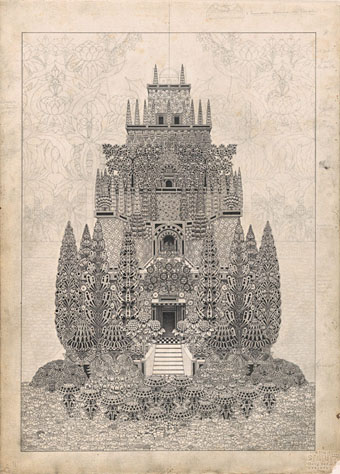 The Temple of Love (1911–24) by Herbert E. Crowley.
• My film viewing in the 1980s involved a considerable amount of backtracking: watching any film noir that turned up on the TV while chasing the early works of David Cronenberg, and various "New Hollywood" classics on television or at repertory cinemas (when such things were still plentiful). Contemporary fare by comparison was often a lot less attractive, although I'd be waiting for new work from David Lynch and Nicolas Roeg while pursuing obscurities (usually the banned or censored) on videotape. Popular films seldom generated actual loathing but throughout the decade I nurtured a persistent hatred for the works of John Hughes, an animus that can still return today when I read yet another nostalgic article about his oeuvre.
The monoculture of the 1980s was writ large on American cinema of the decade. From Arnold Schwarzenegger's muscle-rippling actioners to John Hughes's adolescent confections, bombastic, generally upbeat films characterised the decade of the yuppie.
Christina Newland offers a welcome riposte to the pastel-hued retrospectives in a piece entitled "Reagan's bastard children: the lost teens of 1980s American indie films". While not exclusively teen pictures, I'd have mentioned three low-budget films written by Eric Red: The Hitcher (1986), Near Dark (1987) and Cohen and Tate (1989).
• The Temple of Silence: Forgotten Works & Worlds of Herbert Crowley is a lavish (and costly) study of the strange comic strips and incredibly detailed drawings of Herbert E. Crowley (1873–1937). Mark Newgarden interviewed Justin Duerr about rescuing Crowley's art from undeserved neglect. I missed an earlier interview by Steven Heller with Temple of Silence publisher Josh O'Neill. There's more: The Wiggle Much a Tumblr devoted to Crowley's comic strips and other artwork. (Ta to Jay for the tip!)
• Pandemic is an interactive film by John Bradburn for The Science Museum. "A pandemic is causing heart failure–how far will you go to create a pig/human hybrid to provide donor organs?" The multiple choice begins at YouTube; there's also a behind the scenes feature at the Museum blog, and a trailer. Anyone who remembers a certain scene in Lindsay Anderson's O Lucky Man! may hesitate before playing.
Given the plain palette of so much 1969–70 rock—jammed-out bluesy boogie in the Canned Heat and Allman Brothers mode, nasal pseudo-country harmony singing à la CSN&Y and their afterbirth—it is tempting to imagine an entirely alternative history for rock. It's a parallel world where Fifty Foot Hose's Cauldron, United States of America's self-titled album and synthedelic oddities from Syrinx, Silver Apples, Beaver & Krause and Tonto's Expanding Head Band were just the run-up to a giant leap into the electronic future.

Simon Reynolds in an excellent piece on one of my favourite musical sub-genres, electronic psychedelia
• The week in animated film: Emerald Rush, a video for an extract from Jon Hopkins' new album, Singularity; Awaken Akira, a short homage to Katsuhiro Otomo's graphic novel/film by Ash Thorp and Zaoeyo; Extra (1996), a video by one of the Akira animators, Koji Morimoto, for music by Ken Ishii.
• Tenebrous Kate on The Powers of Darkness & The Powers of the Mind: The Legacy of Jacques Tourneur's Night of the Demon. Related: a look at the film's shooting script and pressbook.
• At Dangerous Minds: John Gray, the pre-Bosie lover of Oscar Wilde, and the man whose surname is memorialised in Wilde's most famous creation, Dorian Gray.
• Skewing the Picture: China Miéville posts the full text of an essay from 2016 about the rural weird.
• Share a pastrami sandwich with TED Klein in Episode 65 of Eating the Fantastic.
• More Hodgsoniana: The Land of Lonesomeness, a short story by Sam Gafford.
• At The Quietus: Barry Miles on William Burroughs' years in London.
• At Dennis Cooper's: Curtis Harrington Day.
• Night Of The Assassins (1977?) by Les Rallizes Dénudés | Night Of The Earth (1980) by Chrome | Night Of The Swallow (1982) by Kate Bush