1: Fritz Haarmann (1879–1925)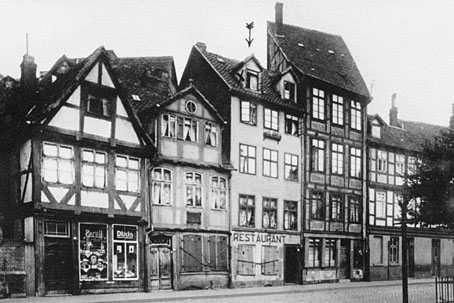 Arrow shows Haarmann's attic residence in Rote Reihe, Hanover.
Haarmann was one of several serial murderers haunting Weimar Germany, variously nicknamed "the Butcher of Hanover", "the Vampire of Hanover", "the Wolf Man", etc. for his sexual assault, murder and dismemberment of at least 24 boys and young men between 1918 and 1924. Haarmann also sold meat on the black market which led to rumours that some of the mince and other produce he sold was human flesh.
2: M (1931), a film by Fritz Lang.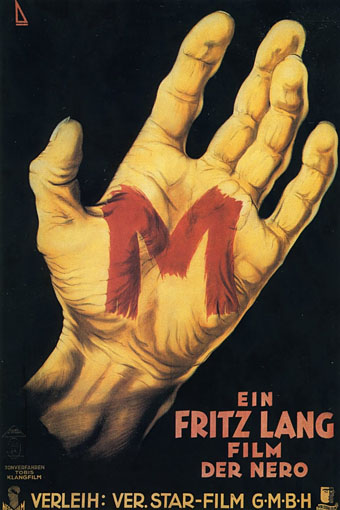 Thea von Harbou's script for M is based in part on the Haarmann case although Lang's child-killer is shown preying on girls rather than boys. Peter Lorre is superb in his first major role as the murderer, while Lang's use of the new sound technology is remarkably inventive when compared to his stagey contemporaries in Hollywood.
3: M (1953), a film by Joseph Losey.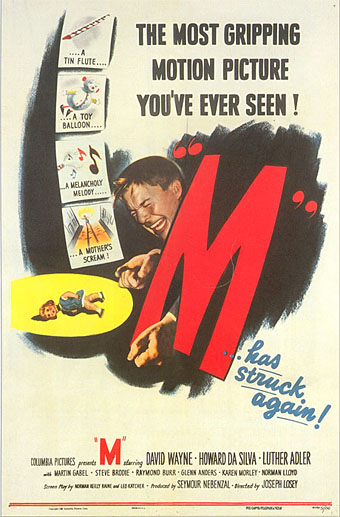 Lang's masterwork reworked as a Los Angeles film noir by Joseph Losey before McCarthyism sent him to Europe. This is one noir I still haven't seen even though a major sequence takes place in that cult location, the Bradbury Building.
4: Haarmann-Fries (1966–67), a sculpture by Alfred Hrdlicka.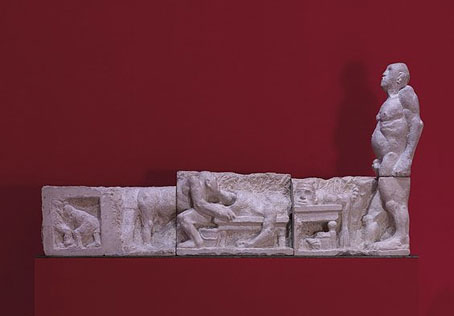 An early work by an Austrian artist that also exists in a bronze version.
5: Die Zärtlichkeit der Wölfe (The Tenderness of the Wolves, 1973), a film by Ulli Lommel.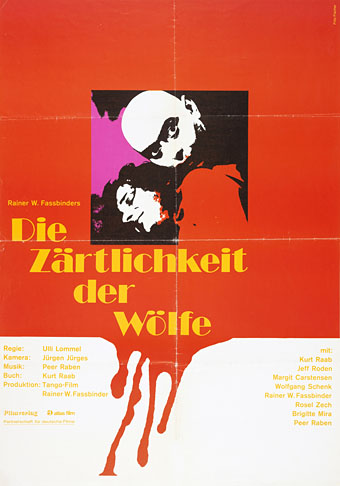 A dramatisation of Haarmann's exploits produced by Rainer Werner Fassbinder, and with contributions from members of Fassbinder's circle. Kurt Raab wrote the screenplay and takes the role of the murderer, while Fassbinder has a minor role as a black marketeer. The script follows the real events with some curious exceptions: Raab looks nothing like the grim, Hitler-moustached Haarmann but seems instead to be modelled on the bald Peter Lorre of Mad Love (1935). Then there's the period setting: no date is given but the events are definitely taking place after the Second World War. Anachronisms aside, this an odd film, almost a gay equivalent of 10 Rillington Place.
6: In Germany Before The War (1977), a song by Randy Newman.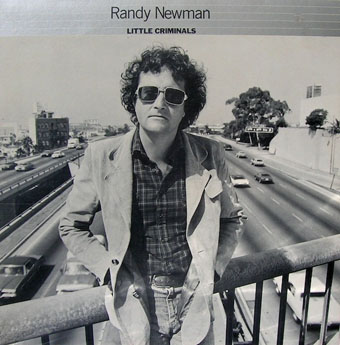 A song from the Little Criminals album which is closer to the exploits of Peter Kürten (Düsseldorf is mentioned) but then Kürten is also one of the sources for M. A great song, anyway.
7: Tenderness Of Wolves (1984), a song by Gavin Friday and Coil.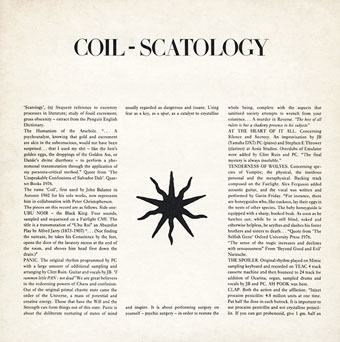 "Concerning species of Vampire: the physical, the insidious personal and the metaphysical." While we're here it's worth noting that Fritz Catlin of 23 Skidoo plays on the Current 93 single LAShTAL with John Balance of Coil. Catlin is credited there (and elsewhere) as "Fritz Häaman".
8: Der Totmacher (The Deathmaker, 1995), a film by Romuald Karmakar.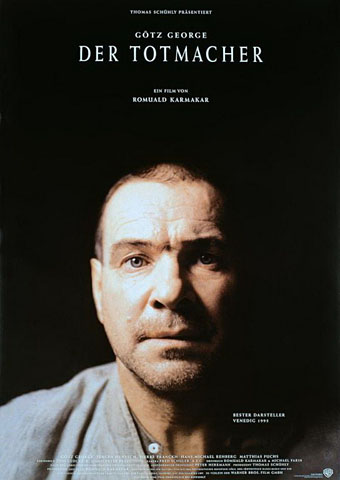 Götz George plays Haarmann being interrogated by a psychiatrist to see whether he's sane enough to stand trial. The script is taken from a transcript of Haarmann's post-arrest evaluation.
9: Amerikanisches Detektivinstitut Lasso (2016), a musical by Nis-Momme Stockmann and Les Trucs.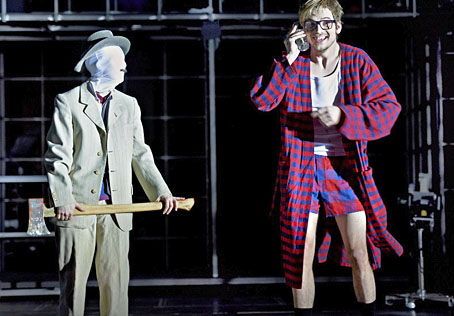 The idea of a serial-killer musical has undergone a swift journey in recent years from punchline—the Jack the Ripper musical in This Is Spinal Tap; Sutcliffe: The Musical in Brass Eye—to actual production. Amerikanisches Detektivinstitut Lasso equivocates by being not so much a musical about Fritz Haarmann's crimes as a musical about the problem of a musical about Fritz Haarmann (or so I gather from Google-translated notes): "Can Fritz Haarmann sing in a musical?" Local newspapers reported complaints about the production when it was staged in Hanover but then people today will complain about absolutely anything. This won't be the last we've heard from Saucy Fritz.