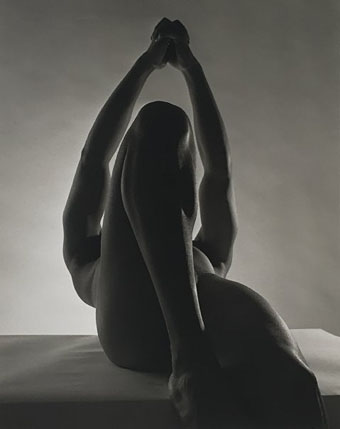 Male Nude, Leg Up (1952) by Horst. From a series of photo prints at Wessel + O'Connor Fine Art until 5th November.
• At Bandcamp: "Tuareg guitar mixed with traditional rural folk": Eghass Malan by Les Filles de Illighadad; "Pan dimensional spacecraft hover over ancient pyramids on worlds undreamed of": Lemurian Dawn by Memnon Sa.
• Songs of Discomposure: Quietus writers pick their most disturbing pieces of music. Also at The Quietus: John Foxx on his collaborations with Harold Budd and Ruben Garcia.
• Eros In Arabia, the first album by Richard Horowitz, has been deleted since 1981, and is consequently very difficult to find. Freedom To Spend are reissuing it next month.
• JG Ballard—The Interview Concordance. A companion to the concordance of Ballard's published works. Some of the interviews may be found here.
• At Dangerous Minds: The Male Figure: Bruce of Los Angeles and the perfection of midcentury beefcake.
• Mixes of the week: XLR8R Podcast 508 by Jennifer Cardini, and Secret Thirteen Mix 231 by Alex XIII.
• Post Punk: a set of postage stamp designs by Dorothy for punk and post-punk bands.
• At Spoon & Tamago: Kanban: The exquisite art of historic Japanese store signs.
• At Greydogtales: Photography of the Folk Horror Revival.
• The Secret Life Of Arabia (1977) by David Bowie | Arabian Knights (1981) by Siouxsie And The Banshees | Arabiant (2002) by Radar