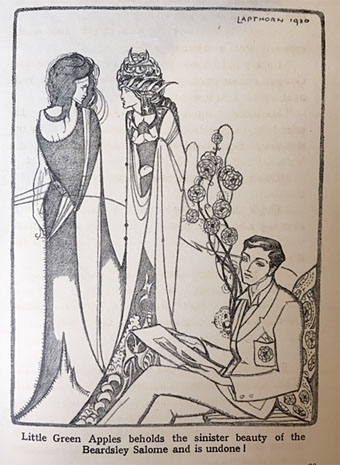 An illustration by "Lapthorn" for Little Green Apples: the Chronicle of a Fallen Man (1930) by Geoffrey Moss.
• Jean-Michel Jarre & Michel Granger: how we made Oxygène. "[It] was initially rejected by record company after record company. They all said: 'You have no singles, no drummer, no singer, the tracks last 10 minutes and it's French!' Even my mother said: 'Why did you name your album after a gas and put a skull on the cover?'"
• "When we ignore or demean consensual BDSM erotica, or stories about female sexual submission, we inadvertently contribute to a cultural legacy that routinely pathologizes, demeans, or erases women's sexual desires." Hayley Phelan on why we need erotica.
• "More than a literal reconstruction of an imagined collaboration between Eno and Morricone, Ghost Box opens a door onto a world where ambient music and country-western make for natural bedfellows." Ghost Box (Expanded) by Suss.
• Peter Bebergal and Janaka Stucky discuss Bebergal's new book, Strange Frequencies: The Extraordinary Story of the Technological Quest for the Supernatural. There's more at the Occulture podcast.
• Great Noises That Fill The Air (1988), an album by Bow Gamelan Ensemble, receives its first release on CD next month. Related: the group in 1987 staging one of their pyrotechnic performances.
• Mixes of the week: Bleep Mix #45 by Lawrence English & William Basinski – Casting Voices Mixtape, DJ Food Solid Steel mix by Matt Berry, and The Séance – 13th October 2018.
• "…the social position filled by art and aesthetics is increasingly best understood in terms of magic." Marina Warner and Eleanor Birne discuss forms of enchantment.
• From 2104: Ten little tales of terror for late of a Halloween night by Levi Stahl.
• Words I Heard by Julian Holter
• Urban Gamelan (Pt. 1) (1984) by 23 Skidoo | Chez Les Futuristes Russes (1984) by Aksak Maboul | Oxygen (1997) by Gas