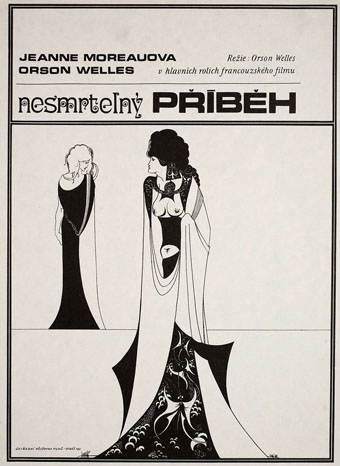 Josef Vyletal borrows figures from Aubrey Beardsley's Salomé for a Czech poster promoting The Immortal Story (1969) by Orson Welles. Vyletal's own paintings were often strange and surreal.
• Pale Fire is Nabokov's "great gay comic novel," says Edmund White. A surprising but not inappropriate reappraisal. White has noted in the past that Nabokov "hated homosexuality" despite having a gay brother and uncle. The portrayal of Charles Kinbote in Pale Fire isn't unsympathetic if you overlook his being delusional, and possibly insane…
• At Folk Horror Revival: details of the charity donations raised by sales of the Folk Horror Revival books, the first of which featured my David Rudkin essay. A one-day Folk Horror Revival event takes place later this month at the British Museum, London.
• Mixes of the week: The Bug presents Killing Sound Chapter 2: Inner Space, a 2-hour blend of "sci-fi scores, expansive atmospheres and synthesized psychedelia"; Decoded Sundays presents Scanner; Secret Thirteen Mix 197 is by LXV.
• Stars Of The Lid unveil a James Plotkin remix of their Music For Twin Peaks Episode #30 Pt. 1. Related: the hype for the new Twin Peaks series gets into gear with a teaser.
• Robert Aickman's only novel, The Late Breakfasters (1964), is being given its first US publication by Valancourt Books.
• "Don't dream it, bet it." Evan J. Peterson on 40 years of The Rocky Horror Picture Show.
• Anna von Hausswolff's sister, Maria, directs a video for Come Wander With Me / Deliverance.
• RIP Michael O'Pray, film writer and curator of many festivals of experimental cinema.
• Oli Warwick talks to electronic musicians about the influence of the late Don Buchla.
• Breakfast In Bed (1969) by Dusty Springfield | Alan's Psychedelic Breakfast (1970) by Pink Floyd | Another Breakfast With You (2001) by Ladytron