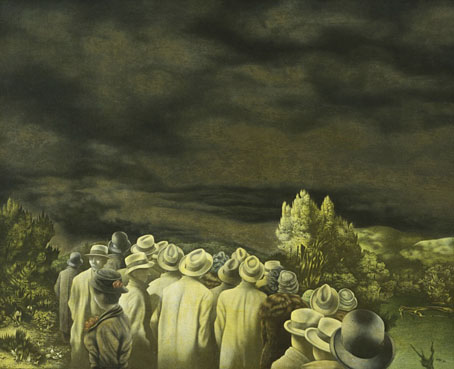 The Expectation (1936) by Richard Oelze.
• Richard Oelze, 1900–1980 is an exhibition of paintings and drawings at the Michael Werner Gallery, London, which runs until January 2017. More Surrealist works by Oelze may be seen at But Does It Float and Ubu Gallery.
• Will McMorran on the problems of translating the Marquis de Sade's most obscene work. Related: Jay Sina on Sexistential Horror: HP Lovecraft and the Marquis de Sade as perverse peers.
• Mixes of the week: More Halloween horror at No Condition Is Permanent, Secret Thirteen Mix 200 by JK Flesh, and a mix for The Wire by Botany.
• The Chronicles of Clovis (1911), a story collection by Saki (HH Munro) who died 100 years ago this week.
• "Jack is 24, sometimes he's a drag queen named Sabrina." The Queen (1968).
• The Mindset of the Macabre: An interview with Abigail Larson.
• "The world is full of bloviators," says MAD cartoonist Al Jaffee.
• Ginette Vincendeau on how the French birthed film noir.
• How to throw a dinner party like Salvador Dalí.
• Sastanàqqàm, another new song by Tinariwen.
• At A Year In The Country: more Quatermass.
• Photographs by Klaartje Lambrechts.
• Paul Bailey on Pasolini's lost boys.
• Adam Shatz on Leonard Cohen.
• Joan Of Arc (1986) by Jennifer Warnes with Leonard Cohen | Who By Fire (1986) by Coil | The Future (1992) by Leonard Cohen