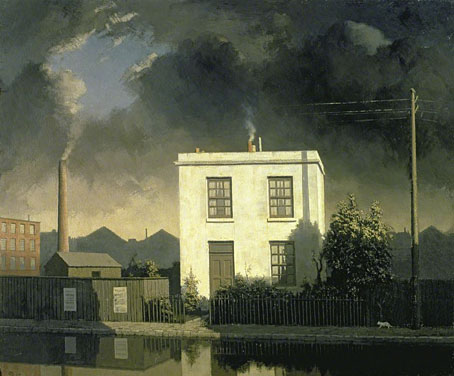 The House by the Canal (1945) by Algernon Cecil Newton.
• RIP Tobe Hooper. Black Hole Reviews recounts the troubled history of The Texas Chain Saw Massacre in Britain, a film that was given a short-lived cinema release then banned for 20 years. Elsewhere: Who sampled from Tobe Hooper's films? Tucktonia, a model village whose London buildings were destroyed for Hooper's Lifeforce.
• Graphic language of the wall: Rick Poynor on Brassaï's photographs of graffiti for Le Livre de Poche. More Poynor: National Theatre Posters: A Design History is available for pre-order from Unit Editions. There's more from the latter here.
• "A question of queer as a kind of futurism: an attitude or tendency that connects mid-20th-century performers and photographers to contemporary digital art and fashion." Brian Dillon reviewing Queer British Art at Tate Britain.
In evolutionary terms, the intelligence of octopuses is an anomaly. The last common ancestor between octopuses on the one hand, and humans and other intelligent animals (monkeys, dolphins, dogs, crows) on the other, was probably a primitive, blind worm-like creature that existed six hundred million years ago. Other creatures that are so evolutionarily distant from humans—lobsters, snails, slugs, clams—rate pretty low on the cognitive scale. But octopuses—and to some extent their cephalopod cousins, cuttlefish and squid—frustrate the neat evolutionary division between clever vertebrates and simple-minded invertebrates. They are sophisticated problem solvers; they learn, and can use tools; and they show a capacity for mimicry, deception and, some think, humour. Just how refined their abilities are is a matter of scientific debate: their very strangeness makes octopuses hard to study. Their intelligence is like ours, and utterly unlike ours. Octopuses are the closest we can come, on earth, to knowing what it might be like to encounter intelligent aliens.

Amia Srinivasan reviewing Other Minds: The Octopus and the Evolution of Intelligent Life by Peter Godfrey-Smith, and The Soul of an Octopus: A Surprising Exploration into the Wonder of Consciousness by Sy Montgomery
• Royal Academy of Arts to reveal explicit side of Dalí and Duchamp.
• At Wormwoodiana: Mark Valentine on The Mystic Umbrellas.
• Norton Critical Edition's Periodic Table of Literary Villains.
• Mix of the week: FACT mix 616 by Lanark Artefax.
• Virus Fonts has a new website.
• Little Umbrellas (1969) by Frank Zappa | Umbrellas (1971) by Weather Report | Black Umbrellas (2003) by Broadcast