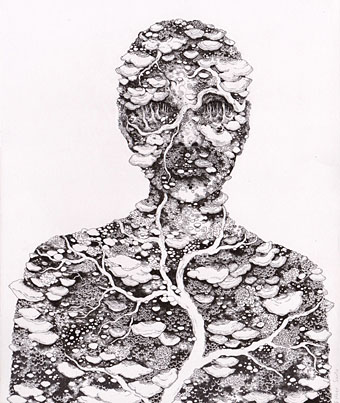 Human Nature by Esther Sarto.
• I Feel Love: "Donna Summer and Giorgio Moroder created the template for dance music as we know it". Bill Brewster on the creation of one of the greatest songs ever recorded.
• The Tearoom by Robert Yang "is a (free) historical public bathroom simulator about anxiety, police surveillance, and sucking off another dude's gun".
• Tim Walker's Leonora Carrington-themed fashion shoot with Tilda Swinton reaches i-D's website at last. More pictures and in better quality.
• Joe Dante on the legacy of Nigel Kneale. Related: We Are The Martians: The Legacy of Nigel Kneale, edited by Neil Snowdon.
• Beth Comery's report on the progress of Gage Prentiss's planned statue of HP Lovecraft for Providence, RI.
• The Plagiarist in the Kitchen: Jonathan Meades talks food and cooking with John Mitchinson.
• At Dangerous Minds: "Forget Louis Wain's psychedelic cats, here are his crazy Cubist ceramics".
• "Court orders Salvador Dalí's body be exhumed for paternity test."
• Flash the flesh: Manchester's gay club heroes – in pictures.
• Rick Poynor on the joy and sadness of dust.
• From The Tea-Rooms Of Mars…To The Hell-Holes Of Uranus: "Beguine", "Mambo", "Tango" (1981) by Landscape | I Feel Love (Patrick Cowley Mega Mix) (1982) by Donna Summer | Martian Sperm And Bagpipes (1991) by Helios Creed