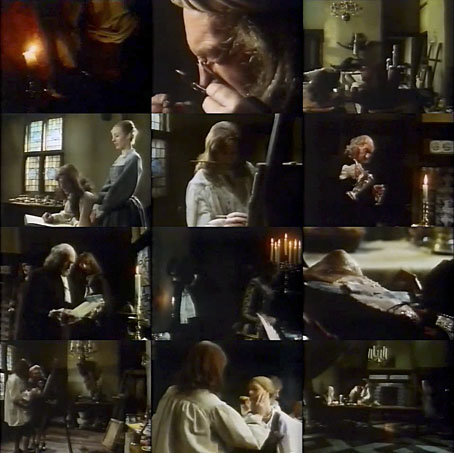 Next week the BFI releases a box set of the BBC's Ghost Stories for Christmas, a series of hour-long TV films broadcast during the 1970s, most of which were adaptations of stories by MR James. One film that isn't among them, unfortunately, is Leslie Megahey's superb Schalcken the Painter, a 70-minute drama based on Strange Event in the Life of Schalken the Painter (1839) by J. Sheridan Le Fanu. Megahey gets mentioned here more than any other TV director (see this earlier post), for years he was someone whose productions I looked out for with a kind of cult fervour.
Schalcken the Painter was first screened on 23rd December, 1979, and repeated two or three times over the next decade. Megahey directed several period dramas for the BBC but this is his only supernatural piece. Its story of real-life Dutch painters Godfried Schalcken (1643–1706) and Gerrit Dou (1613–1675) is beautifully produced, with great attention to period detail, lighting and photography. The BBC used 16mm film for everything at this time but lighting cameraman John Hooper does an excellent job of creating shots that resemble Schalcken's celebrated chiaroscuro paintings, still life tableaux or scenes from Vermeer. Many of the shots appear, Barry Lyndon-like, to be illuminated with nothing but candles. The acting is equally good, with Jeremy Clyde as Schalcken, Maurice Denham as the heartless Dou, and Cheryl Kennedy as Dou's daughter, Rose. The narrator is the splendid Charles Gray.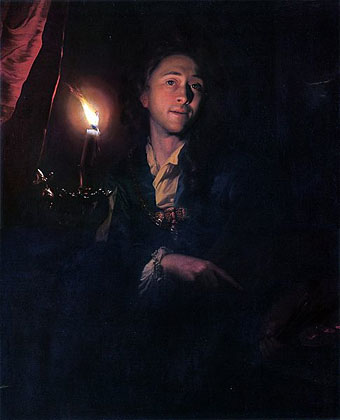 Self-portrait of Godfried Schalcken (1694).
Given all of this it's surprising the BFI haven't included the film in their DVD series, it's a superior work compared to several of the other inclusions, not least the most recent (and terrible) Whistle and I'll Come to You. YouTube has a couple of uploads, however, so the curious may choose from a full-length version here or the usual multi-part version here. None of these fuzzy VHS copies do John Hooper's photography any favours at all but for now this is the only way most people will be able to see Leslie Megahey's beautiful and chilling ghost story.
Previously on { feuilleton }
• Leslie Megahey's Bluebeard
• "Who is this who is coming?"
• The Watcher and Other Weird Stories by J. Sheridan Le Fanu
• Chiaroscuro