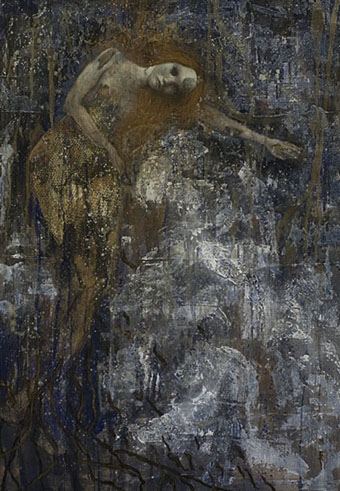 How to become a mermaid and dissolve into sea foam in just seven surgical operations (2010) by Carla Bedini.
• D.I.Y. Magic was a regular feature in the late Arthur Magazine that's now become a book by Anthony Alvarado: "Think of it as jail-breaking the iPhone of your mind. Teaching it to do things that its basic programming was never set up for. Advanced self-psychology." A first edition letterpress silver foil cover is limited to 1000 copies. | More magic: Jimmy Page's unused soundtrack for Kenneth Anger's Lucifer's Rising finally gets an official release on March 20th.
• Julia Holter's tremendous new album, Ekstasis, has been rocking my world this week. She's interviewed at FACT where you can also hear the opening track, Marienbad, which receives extra points for being derived from that film. And there's more: Ritual Music, a live performance at Sea & Space Gallery in Los Angeles, and Fur Felix, a film by Eric Fensler.
• Brute Ornament, an exhibition of new work by Seher Shah and Kamrooz Aram opens at the Green Art Gallery, Dubai, on Monday. While the UAE is out of reach for most of us, the gallery site has samples of the work on display.
• This week's mixtape arrives courtesy of BUTT magazine: Rock Bottom Mix by Cesar Padilla, a blend of acid, glam, grunge, punk, surf and stoner rock. Elsewhere, Richard Norris lists his 20 favourite UK psychedelic records.
• the name is BURROUGHS ? Expanded Media at ZKM, the Center for Art and Media in Karlsruhe, is a comprehensive exhibition presenting for the first time in Germany the artistic output of William Burroughs.
• Boneland by Alan Garner will be published in August, a new novel that concludes a narrative thread begun with The Weirdstone of Brisingamen in 1960.
• Coming soon (so to speak) on BFI DVD, The Erotic Films of Peter de Rome, more gay obscurities receiving quality attention.
• The Northampton Chronicle reports on Alan Moore's forthcoming novel about the town, Jerusalem.
• Susan Cain is playing my tune (again): Why the world needs introverts.
• Techniques of terror: Carl Dreyer's Danish Gothic dissected.
• NASA has the latest map of Everything.
• The male sex toy revolution.
• Lucifer Rising Sessions (1972) by Bobby Beausoleil.